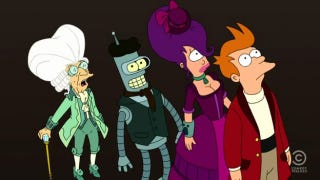 Yesterday's Futurama took us on a psychedelic, president-licking journey through time, space, and disturbingly British alternate futures, complete with a rope-dealing Thomas Jefferson, vomiting Ulysses S. Grant, elbow-fetishizing James Madison, and badger-wielding Benjamin Franklin. Now that's what I call history!
"All the President's Heads" finds Professor Farnsworth sprucing up his family tree, eager to show anyone willing to listen - and plenty who aren't - all the amazing people he's descended from. (There's also Fry.) When Fry abuses his second job as a night watchman at the head museum to throw a big party with all the presidents - featuring such guest heads as Amelia Pond, Inara Serra, and Owen Harper, albeit in the form of some fairly generic heads - the Professor discovers from George Washington that his 18th century ancestor David Farnworth was actually a traitorous forger.
Taking advantage of some previously unknown properties of heads in jars - namely, that ingesting the jar fluid can send you back in time - the Professor drags Fry, Bender, and Leela on a jaunt back to 1775. There, the gang hobnobs with various sentinels of liberty, and they even manage to foil the nefarious David Farnsworth. Only one slight problem: Fry unwittingly interferes with Paul Revere's legendary ride - as the Professor puts it, he "really screws the granny this time" - causing a swift British victory and an altered, still colonial 31st century America.
Before we get into the analysis of this episode, I should say that I am a massive, massive presidents buff. I'm the sort of presidential history nerd who writes lengthy treatises on possible alternate commanders-in-chief, and somewhere out in the ether there may even be a clip of me on Beauty and the Geek naming all the presidents backwards. (Unless that was just an elaborate fever dream. I kinda hope it was.) As such, I'm guessing my reaction to this episode was a bit different from other viewers', because as soon as I heard about this episode, I was banking on nothing but 22 minutes of arcane, ultra obscure presidential in-jokes.