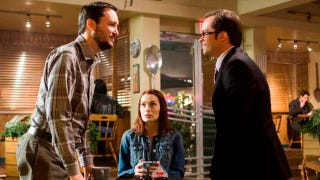 Nerd icon Wil Wheaton has returned to sci-fi television as Eureka's slimy Dr. Isaac Parrish. We spoke with him at Comic-Con about just what makes good (and bad) technobabble, the secret to playing a scientist, and what's ahead on Eureka!
What's it like stepping back into the world of technobabble?
The technobabble is terrific because the technobabble on Eureka comes from science advisers, and even with the made-up science our science adviser comes up with a way to take that fake science and give it at least a toehold in reality. And things follow a logical flow. Unlike Star Trek where they just made up words that sounded technical.
It's almost like it's a language unto itself, and you're either fluent in technobabble or it's like you're speaking broken English...
I wrote a post on my blog about this, about the delivery of technobabble. You know, when a scientist talks about science, they have a point of view about the science, they're excited about it, they feel passionately about it. So when they're describing thermodynamics, they're excited in a way that that excitement comes through and also their expert knowledge comes through. What you don't see is a scientist going, "God, what happens!?" As an actor, it's very important that I have the same passion and the same point of view about these made-up facts that the character does so that when the audience watches that scene, they don't see an actor going, "Oh god, what happens?" They see a scientist who is excited about something bringing that across and communicating it to the other characters. It's really challenging to do technobabble well, and I gained an additional level of respect for the people who do that all the time and do it really well.
So what can you tease about your role in this season of Eureka?
Dr. Marten's coming to Eureka, and she's beautiful and charming and intelligent, and Fargo likes her, so Dr. Parrish immediately needs to win Dr. Marten's affection, not only because she's smart and beautiful and clever, but because if Dr. Parrish wins, Fargo loses. And that is their relationship.
When you made your first appearance in season 4.0, was it just a one-off or did you know you'd be coming back?