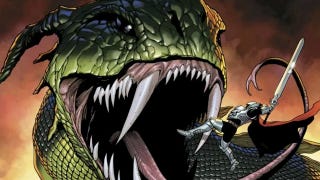 Comic-Con yawns out a deluge of news, and it can be a chore to sift through the press releases and panel hubbub. Now that the dust has settled, we present to you 15 comic-related tidbits for your perusal.
- This October, Matt Fraction and Terry Dodson are teaming up to write The Defenders (Silver Surfer, Dr. Strange, Red She-Hulk, Iron Fist, and Namor are the roster) and Jason Aaron is taking over The Incredible Hulk with Marc Silvestri.
- Silvestri also confirmed that a movie based on The Darkness may be in the works at Mandeville Films. [Rarity Guide]
- Along with Tom Morello's new comic Orchid, Dark Horse is adapting Guillermo del Toro and Chuck Hogan's The Strain trilogy and PC Cast's House of Night for comics.