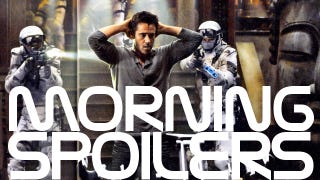 Man of Steel will take flight a little later than expected. Peter Dinklage explains what's next for Tyrion on Game of Thrones. Joss Whedon's long-delayed horror movie is finally getting released. And Hilary Swank is headed to Venus.
Spoilers from here on out!
Top image from the Total Recall reboot.
Man of Steel
The release date has been pushed back from December 2012 to June 14, 2013, probably due to some combination of the busy winter 2012 release schedule and the need to work on some of the rumored third act script problems. Or the whole December 2012 thing might have always just been an error - the studio says that was always just a tentative date and that info was accidentally released when Henry Cavill's casting was announced. Draw your own conclusions, I guess. [The New York Times]
---
The Amazing Spider-Man
Here's a teaser poster. [SpoilerTV]
---
The Wolverine
Hugh Jackman has confirmed that the movie's villain will be Kenuichio Harada, alias Silver Samurai, a Japanese mutant who has oscillated between good and evil in the comics and has the ability to project an energy field onto anything. [ComingSoon.net]
---
Cowboys & Aliens
Here's an interview with director Jon Favreau.

---
Rise of the Planet of the Apes
Here's a Comic-Con sizzle reel.

---
Elysium
Here's a poster to tie in with the viral video campaign. [/Film]