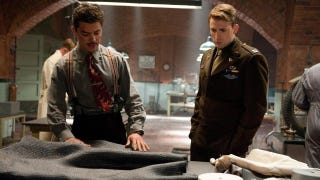 We recently spoke with Captain America co-writers Christopher Markus and Stephen McFeely. They explained Cap's relationship with the Starks, how war vet experiences inform the movie, and whether Steve will get to really fight Nazis in the sequels.
io9: One of the big references you have to the other Marvel movies is bringing in Tony Stark's father, Howard Stark. How much of a temptation was there to just make Howard a 1940s version of Tony?
McFeely: We did not know how to do it exactly. Do you make him the opposite of Tony, a straight-laced guy so that Tony is reacting to an oppressive household or something? He's a little closer to Tony…
Markus: I mean, he's Howard Hughes, and we all know where Howard Hughes went. We don't know if Howard [Stark] went quite that far, but when he becomes John Slattery [in Iron Man 2], he's clearly lost some of his sense of humor. So I like considering the evolution of that character. What really fascinated me in the back of my head as we were writing it is that, OK, Steve is fighting alongside this guy, next year he's going to be fighting alongside his son, who is going to appear to actually be older than his father and older than Steve. None of that is in the movie [explicitly], but it's all extra gravy.
And, of course, looking at the comics, the conflict between Steve Rogers and Tony Stark has been a huge driving force over the last few years. Is that something you wanted to allude to or build into Captain America?
McFeely: We definitely wanted Steve to have a relationship with Howard so that, if Joss [Whedon] chooses to use it, Steve can turn to Tony and say, "I knew your father, and I have this opinion about you, I have this opinion about him." So if they have a conflict later that there's a resonance there.
Markus: I have no idea – literally - whether we're headed for Civil War or anything like that. They're just a great contrast. Tony Stark is never going to wave a flag.
McFeely: It's safe to say that in The Avengers they certainly have friction.
This movie plays down the Nazis in favor of Red Skull and HYDRA as the primary antagonists. If a later movie return to the 1940s, is there a chance of a more direct confrontation with the Nazis?
Markus: Certainly, with HYRDA already up and running and knowing the basic plot of how he fought HYDRA, you have the option of having [the sequel villain] not be HYDRA because it doesn't fit into that. So you can do a World War II plot that is at least part of Captain America 2, it could be just the Nazis. Theoretically, Steve could go to the Pacific. I don't know that he ever did, but you could do it. So it does free you up to go elsewhere.
McFeely: For this movie, we wanted Red Skull. The question came up earlier as to why he doesn't punch Hitler, and that's a different movie. If you put Hitler in, then Skull takes a step down in terms of villainy. And we don't want to do to that.