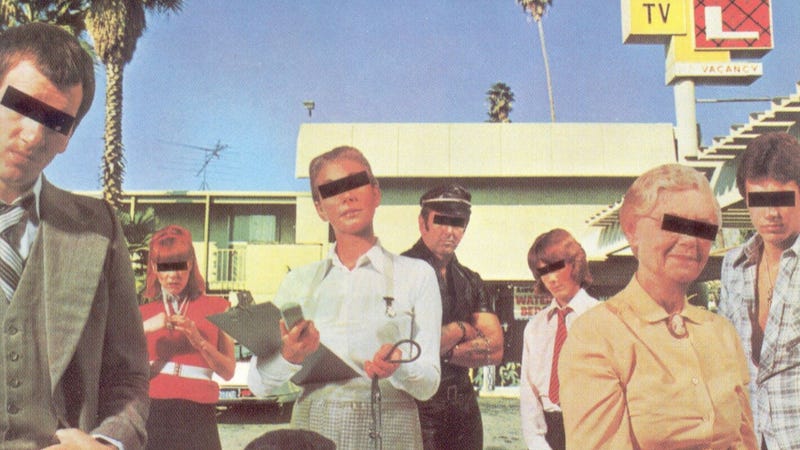 Welcome to Privacy Club. You cannot find Privacy Club on the internet.
Look for stencils on the sidewalks to find this week's key to the encrypted directions — as usual, we've stashed them steganographically inside a photo posted in a 4Chan forum devoted to politicians having sex with donkeys.
You cannot bring your mobile to Privacy Club. While you are at Privacy Club, we ask you to find a reasonable thing for your phone to be doing so that it appears you have gone to a place other than this meeting. Leave it on your desk at work; send it out to lunch around the corner. You must walk to Privacy Club or take public transit. When you do, put on a hat and avoid heavy CCTV zones. If you normally wear makeup, don't. If you normally wear business clothes, dress like a punk. If you normally dress like a punk, put on a tie.
If anybody finds out who we are or that we've met, you've just killed this cell of Privacy Club. See you there.
In just a few years, I can easily imagine people forming a Privacy Club with rules just like this. Maybe it would be for fun, or maybe it would be a matter of life and death. Either way, it would be one possible response to a world where the rules of privacy have been completely rewritten by surveillance technology and the law.
You've heard the arguments already. On PBS News Hour, on NPR, and in shiny books published by serious-minded New York publishers, we keep hearing this refrain: Social media and CCTV have stolen our private lives, and we'll never get them back.
There are two reasonable responses to this assertion: 1) Who cares if they have? and 2) No they haven't. Both turn out to be true. Let's figure out why.
The "Transparency" Fallacy
Why should we worry that our private lives are on display online and through the lenses of security cameras? For decades now, science fiction author David Brin has been arguing that technology is pushing us towards a "transparent society" where we lose our privacy but gain "transparent" systems of authority to make up for it.
A transparent authority is any powerful institution, usually a government or a corporation, whose rules and machinations are revealed to the public routinely as a result of investigative reporting, leaks, and self-disclosure. Brin's idea is that in a society with less privacy, we lose the deadly secrecy that once allowed powerful people to victimize the less powerful. This is essentially his argument in the nonfiction book The Transparent Society, and his ideas have changed little since then — in a recent essay for Silicon Valley Metro, he restated this idea more forcefully than ever.
Ethicist Peter Singer makes a similar point in in his recent Harper's magazine essay "Visible Man: Ethics in a World Without Secrets." Both Singer and Brin suggest that the technologies of surveillance from CCTV to Facebook will shine light equally on the powerful and powerless alike. They both hail Wikileaks as the supreme example of how transparency works in a democratic society. Sure, the Feds can snoop on your Facebook friends, but activists are snooping on the Feds, too. Why should you worry that Google is gathering tons of data on your personal email, spending habits, friendship networks, and physical location? Pranksters like Lulzsec will leak every Google employee's data to you eventually, too.
Singer goes so far as to say, essentially, that data-gathering doesn't create authoritarian regimes — undemocratic people do. This is basically the crux of his argument, and Brin agrees. That's why they're so sanguine about the loss of privacy. And that's where they're wrong.
Pretty much every authoritarian regime has used data gathering techniques to shore up its power, going all the way back to Imperial Rome with its census, which was used to track taxpayers, slaves, and people who lived in areas Rome conquered, like Gaul. After all, how do you maintain a good imperial system without tracking that kind of data? With the help of census-takers, Rome could maintain an historically unprecedented grip on its citizens, even the far-flung ones.
Authoritarian governments from Hitler's Germany to Slobodan Milošević's Yugoslavia have left enormous paper trails behind which reveal how surveillance and data retention were key to their genocidal projects (human rights data analyst Patrick Ball has written extensively about this). Certainly there are examples of benevolent data-gathering, like population genetics studies in medicine where personal information is removed. But by and large, powerful political institutions on the cusp of going darkside usually start in with the surveillance-based data-gathering. One could easily argue that surveillance and data-mining on a massive scale are symptoms of authoritarian regimes.
Privacy Is Unevenly Distributed
The other problem is that transparent societies are more often societies where privacy is unevenly distributed. Most people have very little privacy, but the rich and powerful can pull the curtains to hide whatever secrets they don't want revealed. Already, we've seen how the political regime in Egypt shut down transparency technologies like the internet when they wanted to hide what they're doing from the world. On a smaller scale, police working for San Francisco's metro system, BART, illegally shut down cell phone access in their stations on a day when they suspected people might be gathering there to protest a BART police shooting.