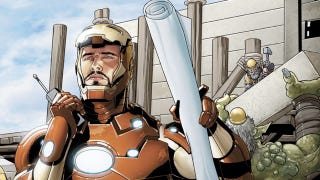 Just because the entire comic industry will more or less relocate to San Diego tomorrow doesn't mean there isn't a ton of new stuff on the stands — Locke and Key and Daredevil return, and Grant Morrison pens his treatise on superheroes.
First Issues
Joe Hill and Gabriel Rodriguez's new Locke and Key series Clockworks travels back to the Revolutionary War, where redshirts and supernatural nastiness are equally deadly. Mark Waid also starts a new Daredevil series that sees Matt Murdock reassessing his red pajama legacy.
DC's Retroactive line of one-shots has seminal comic creators writing new stories for DC characters as they appeared in the 1970s — Len Wein writes Batman, Cary Bates is on Flash, and Dennis O'Neil pens Wonder Woman. And yes, this is Wonder Woman during her I Ching phase, when she dressed like a mod and learned kung fu.