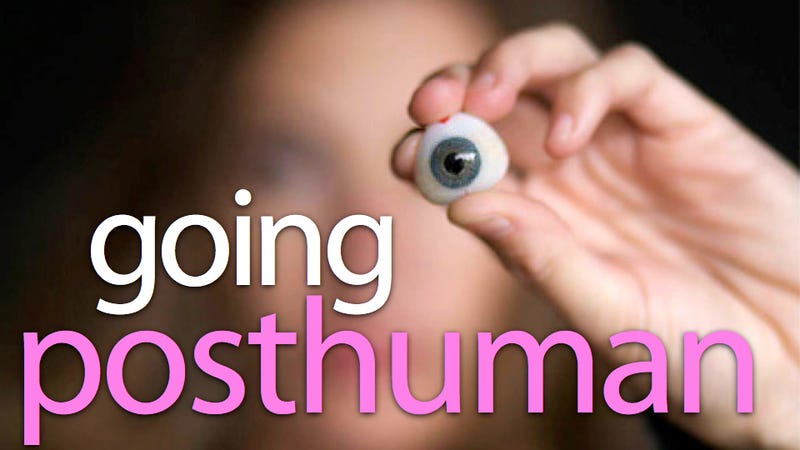 Biotechnology now outpaces the bodies we were born with. Today, we can give ourselves additional senses or improve the ones we've got, and we can heighten our strength while also building limbs better than the breakable ones most of us have. Here's a gallery of all the human enhancements that will be improving lives - or just making life more interesting - in the next few decades.
After losing an eye in a car accident, Taya Vlach has turned to KickStarter to raise money to install a waterproof eye, capable of transmitting video, zooming, capturing still images, and hopefully, facial recognition, ultraviolet, and infrared capabilities.
Bionic contact lenses, which could be used one day for anything from projecting a HUD in daily use to a video game device (CC).
Wafaa Bilal, an NYU professor, has a video camera implanted in the rear of his skull for his project, "The 3rd I". The camera implantation was rejected by his body, but he is seeking out other methods by which to carry out the project (AP).
Body modification artist Steve Haworth shows off the use of him implanted magnet in a 2006 Wired article. The implanted magnets will be rejected by the body if they are continuously used to lift objects, however, their presence can provide additional sensory input to the user. This video shows an individual with implants from Haworth manipulating metal objects.
A surgery in progress to install a deep brain stimulation implant, which aids in Parkinson's disease. The placement of the lead portion of the implant dictates the therapeutic possibilities (CC).
A user of a continuous track chair makes his way over a beach (Action Track Chair).
(±)-2-(benzhydrylsulfinyl)acetamide, more commonly called Modafinil and prescribed for narcolepsy, has an off label use that deemed one Nature article to call it "The Professor's Little Helper" due to its ability to improve performance in the fatigued.
Arun Blake, a blind photographer, tests Steve Mann's EyeTap. For more about the developer, Steve Mann, see his profile in io9's Portaits in Posthumanity.