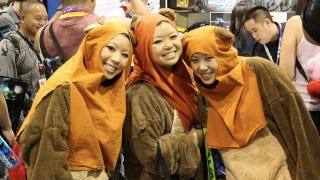 Comic-Con may look like a four-day saloon brawl of geek culture, but know that there's a well-defined code of conduct designed to make everyone's experience optimally enjoyable. For all you San Diego pilgrims this week, here be the rules.
1.) Stay hydrated throughout the day. This is both for A.) your own well-being; and B.) everyone else's. The convention center is crowded already without parched corpses, and nobody packed smelling salts (unless you're cosplaying as Night Nurse).
2.) If you're cosplaying as Night Nurse, pack smelling salts.
3.) For the same reasons, stay nourished. Nutrient deficiency causes lethargy (which causes bottlenecks). Don't just eat $5 pretzel dogs, as they will induce a common condition known as "Pretzel-Wiener Psychosis." It's triggered by looking into your wallet and realized you've spent an entire month's rent on tenuously edible convention slop.
4.) Complaining about lines will not make them go faster. Why? Uatu the Watcher will notice your griping and whisk you away to a 99.9% identical parallel dimension where every line is 5 minutes longer.
5.) Grousing aloud about Twilight fans is tantamount to yammering about airline food. The Twihards will be done by 12:30 PM on Thursday. You are however free to bellyache if Stephenie Meyer announces a new series about crypto-Mormon centaurs or some other mythical fauna.
6.) Ditto goes for bleating about Glee fans. It's like getting into a fistfight with barometric pressure. Imagine stink lines coming off Hall H if you must.
7.) Keep all pens in your pockets.