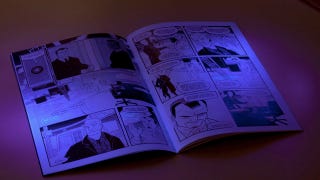 SVK is the latest comic collaboration by Warren Ellis and artist Matt "D'Israeli" Brooker, who previously worked together on the cyberpunkish Lazarus Churchyard. This one-shot comic has been gaining press for a totally unabashed gimmick: it comes packaged with a handheld UV light device that allows the reader to discover hidden dialogue bubbles rendered in invisible ink.
Given that SVK clocks in at 40 pages, I'm not going to delve into the secret of this invisible dialogue. What I will say is that when you first open SVK, you'll be scouring every square inch of the page for hidden messages.
You'll get such brain flashes as "Hey, let's shine this on William Gibson's head in the foreword!" (which works) and "Gosh, I bet there's some strange clandestine shit in those clouds!" (which doesn't). During your first read through, you'll be so preoccupied fooling around with the UV light that you'll miss most of the story, which takes place in a London where technology's just a bit ahead of the curve.
SVK follows Thomas Woodwind, your archetypal hard-as-nails, tech-savvy Ellis hero. You can see hints of Desolation Jones, Spider Jerusalem, and Jack Cross in his surly quirks and penchant for beating the hell out of people. He's been hired by the Heimdall Corporation to retrieve an experimental device with the transcription "SVK" — Woodwind's journey leads him smack dab into the world of corporate wetworks and surveillance technology gone haywire.
As I mentioned before, SVK is aware its UV text is its shtick. Heck, this fact is compounded by an essay by comic historian Paul Gravett about gimmick comics, an essay on augmented reality by Jamais Cascio, and a fake ad shilling the 21st century equivalents of the electronic computer brain and nuclear submarine. Who wants "a box of 50 Facebook Likes?"