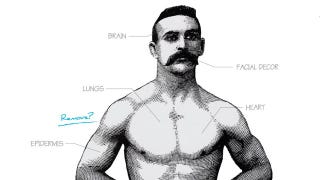 Max Barry blew our minds with his dystopian future novel Jennifer Government, and now he's back with Machine Man, a cyborg novel that he premiered in a different form on his website last year. Darren Aronofsky is already attached to direct the movie version.
We've got an exclusive chapter from Machine Man, in which Barry delves into the weirdness of bionic culture. Are you ready for the cybernetic future?
We were excited by Max Barry's experimentation with online publishing, in which he posted a page a day from Machine Man and charged a subscription. Since he finished the story, he's revised it extensively, and he had his blog readers vote among six possible covers for the resulting book. And now the finished product is coming out next month. We can't wait!