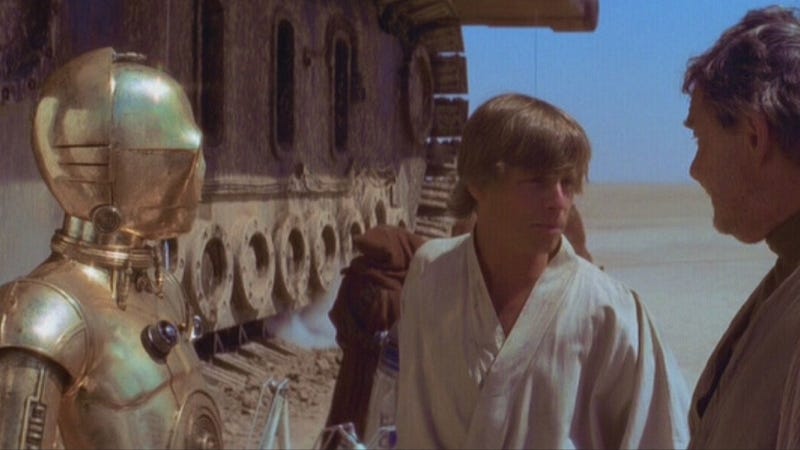 One of the great joys of watching science fiction and fantasy is to appreciate the unintentionally hilarious lines that come out of people's mouths sometimes. It's inevitable that when you're exploring mind-expanding premises and weird worlds, you're bound to run into some really insane conversations.
Sometimes our favorite movies and TV shows feature some hideously ridiculous dialogue. Sometimes nonsensical and melodramatic speech is part of why bad movies are such a guilty pleasure. Here are the 10 awesomest lines of unintentionally funny dialogue from science fiction and fantasy movies and television.
We asked everyone over on io9's Facebook page to suggest their favorite unintentionally funny dialogue from movies, and people came up with some great examples from television as well. Thanks to everyone who gave us side-splittingly funny suggestions! (We would have included "Not the bees!" from Wicker Man, but we're not sure if it counts as science fiction or fantasy.)
10. Mortal Kombat: Annihilation: "Mother, you're alive!" "Too bad... YOU will die!"
It's really all in the delivery. The video pretty much says it all.
9. Lord of the Rings: Legolas is Captain Obvious.
This line is so famous, it has a ton of tribute videos and remixes on Youtube, but here it is in its unadulterated version. Aragon painstakingly explains how they're going to create a diversion to distract Sauron, and then a lightbulb goes on over Legolas' pretty head. "A diversion!" he says, helpfully. (Thanks to Sunil and Caleigh for suggesting this one!)
8. Star Wars: Toschi Station Power Converters
Why do people love this line of dialogue so much? Is it the way that Luke talks about picking up power converters as the greatest treat in his otherwise meh existence, or just the whiny delivery? I think it's the whiny delivery, actually. Another great candidate from the original Star Wars: "You came in that thing? You're braver than I thought!" (Thanks Brett, Kimber, Jeff and Tim!)
7. Star Crash — "Imperial Battleship, halt the flow of time!"
Wait, what? Star Crash is one of our favorite movies, and we love the new DVD set, but we're constantly rediscovering the marvelousness of Roger Corman's Star Wars knock-off. And we love the idea of an imperial battleship that comes equipped with a time-flow-halterater. (Thanks, Christian!)