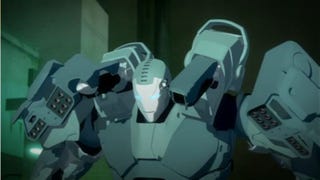 This week on television, it's a time for tough choices. Several of your favorite television shows are back this week, plus Syfy introduces its new mutant super-team show Alphas. And Iron Man and War Machine both face impossible battles.
Check out the inside scoop on all the TV shows coming back this week. We've also got sneak peeks from new episodes of Eureka, Warehouse 13, Adventure Time, Alphas, Scooby-Doo, Futurama and Haven. And the trailer for a new Syfy Original Movie — about a super-volcano! Check out all the details, below.
Today:
Cartoon Network's Monday night animation bloc is back with a vengeance. First at 7 PM, there's a new Johnny Test, featuring two stories:
"Cat Scratch Johnny"- Johnny and Dukey can't get enough of the latest 3D movie so they ask the twins to make them everyday 3D glasses. They make the mistake of wearing them during the movie, causing too much D as the movie comes to life! "Johnny Deep"- Bling Bling uses a ring to hypnotize Susan to fall in love with him, then whisks her off to his yacht. Johnny and Dukey transform into sharks to search for the ring and destroy it, getting help from a retired underwater action hero.
Then at 7:30, there's another Amazing World of Gumball. But that's not why we're excited...
What time is it? Adventure Time! The show that many people consider the best new cartoon of the past couple years is starting a new season at 8 PM, with "The Conquest of Cuteness." What happens?
Finn and Jake are attacked by the Cute King and his army of the cutest, most harmless warriors ever. When our guys don't take the threat seriously, the Cute King tries other means to intimidate them.
Check out two clips from the episode:


And that's followed by an extended version of a previously aired Regular Show episode.
But Cartoon Network isn't the only channel that's trying to grab onto your eyeballs tonight. Syfy is also bouncing back on Monday nights, with two returning shows and one new one. (Check out our spoiler-free preview of Syfy's Monday night here.)