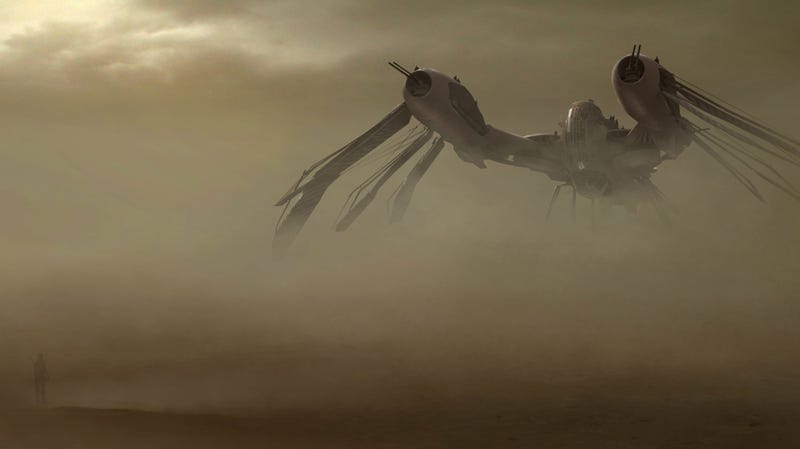 Can Wall-E director Andrew Stanton capture the pulpy greatness of Edgar Rice Burroughs' A Princess of Mars, in his first live-action movie? We've been keeping all our appendages crossed. Here's the first inside scoop on Stanton's John Carter movie — including a first ever shot of the alien Tharks!
Last month io9 went to Disney's Barsoom, with a sneak peek edit-bay visit. Stanton showed us footage of the leather-strapped Taylor Kitsch (John Carter) struggling with Mars' gravity. We ogled the four arms of the warrior clan of Tharks, and Carter's pet Woola! And here's what we learned about Disney's huge Martian adventure movie.
For those of you unaware of the John Carter series, here's a quickie synopsis that Disney is using for the film:
The film tells the story of war-weary, former military captain John Carter (Taylor Kitsch), who is inexplicably transported to Mars where he becomes reluctantly embroiled in a conflict of epic proportions amongst the inhabitants of the planet, including Tars Tarkas (Willem Dafoe) [a giant green warrior creature] and the captivating Princess Dejah Thoris (Lynn Collins) [Silverfox in X-Men Origins: Wolverine]. In a world on the brink of collapse, Carter rediscovers his humanity when he realizes that the survival of Barsoom and its people rests in his hands.
The whole story is revealed via the author Edgar Rice Burroughs, who actually puts himself in the novel claiming that he's discovered a manuscript of a factual account from an old Uncle. And yes ERB is 100% in the movie as well (and in the trailer, which we also watched).
Clearly a movie of this magnitude is no easy challenge to take on. Especially when it's being helmed by a director who (while clearly brilliant) has never directed a live-action feature film. We scanned and analyzed every still, each piece of concept art, we even examined Matai Shang (Mark Strong)'s robes (which were kind of a delightful version of the Necromongers race's aesthetic from Chronicles of Riddick with a Jedi sleeve) and here are some things we learned about:
The Tharks
The biggest surprise out of the edit-bay visit was the reveal of the 9-foot tall, four-armed alien creatures that also inhabit the red world of Barsoom, The Tharks. I've always imagined these Martians to be a bit more like giant insects with unfeeling bug-eyes. Not the case here. Stanton and team figured out a way to humanize the aliens, thus giving this alien species the ability to emote. As you can see in this little hint of a picture here, the creatures are slender but they're rocking the leather strap costume that is the uniform of Barsoom.
But, as a result of making them a bit lankier, the whole world feels a lot less like something you'd paint on the side of your van, and much more tangible. And even though they have four arms, green skin and giant tusks (on closer inspection I noticed that a few of the Tharks had carved their tusks, etching out interesting patterns barely visible to the eye) the most striking thing about this alien race were their eyes. Stanton had literally overlaid Willem Dafoe's eyes over the flat face of this warrior, and lightened the iris with a striking ice blue. Why blue?
"Because they arrest you," Stanton explained. "We had all these eye colors. Fortunately, Defoe is getting so defined and wrinklely so there is a lot of Defoe in that face so it translates really well." Here's a bit more from Stanton on creating the Tharks.
Tharks are 9-foot to 10-foot tall green aliens with four arms and tusks. They're all CG, so I went with my Pixar gut and experience, and got actors because of their eyes, their voice, and their acting ability. That's all that's going to be left when all of this is said and done. Those are three things that can translate directly to the animated characters, once they're portrayed there. I got Willem Dafoe and Samantha Morton, and this is what I asked them to do, which was to be on stilts with gray pajamas on, with face cams in 100-degree heat. That's how I sold it. I didn't know how else to get around this issue. I said, "How would you like to wear gray pajamas and be on stilts and wear face cams and stand in 100 degree heat in the desert for six months or three months?" They said, "Where do I sign?" I think it was being honest with the challenge and it was different than things they had done before, they were really up for seeing where this would go.

The reason I really, really wanted to do this is because at least for me I can tell when somebody's acting to a tennis ball or nothing there versus somebody's really being there. I wanted every possible chance to make this believable, so by having them really there, people acted better, people acted differently, people had actual eye lines. People reacted to things they weren't prepared for, and even down to the cameramen: The cameramen framed it differently because there was somebody there. Cameramen are trained to frame nicely, so if you take somebody out of the background and have nothing there, they're going to use the background — whether they know it or not — to try to frame to make that look balanced and good. When you have somebody actually there, they're willing to be sloppier and do all the stuff they would normally do. I learned a lot of this working on Wall-E. It all added up to hopefully a very visceral, believable sense of being there, that you're talking to an actor. That's exactly what people did, so we were out there with the gray pajamas, standing on stilts with a face cam. The face cams turned out to be great for the actors, because they could treat them like they could use them for the actual distance that they had to be from things. That was a real benefit...

I swear now that I'm seeing the end product, finally getting finished shots on the other side, if I were to shoot again tomorrow, I would do it all over again exactly this way. It was the right call, it was the right way to be.... Even when I would take time of writing the Thoats [the creatures the Tharks ride]. We actually went through the pain of figuring out what it felt, looked like, animating it, figuring out what the lope of it and the gallop of it was, and then programming that data into an electrical cart so the saddle would move exactly at that, so that hopefully when it was all done and you put a Thoat on there and you put a Thark in it, that real saddle would match, and it does. So hopefully if we've done it right, people will go, "How the hell is he sitting on this? How the hell did he ride around on this thing?"
What other beasts from the Edgar Rice Burroughs work are in the film?
John Carter isn't all Thoat-riding Tharks (which would still pretty awesome, even if it was). ERB was a machine when it came to creating alien beasties and Disney had a lot monsters to make in order to make this world come to live. Creature animator Eamonn Butler [pictured here] took us through a collection of concept art and creature drawings and introduced us to Woola (Carter's Martian mutt!).
Woola went through a lot of concept art, specifically softening the monster pup's look, and in the last image we saw Woola looked downright adorable. Butler surmises that Woola may steal the show (even though it's only on screen for a small amount of time). Woola has a wide mouth with rows of shark-like teeth but kind puppy eyes. It looks absolutely nothing like the earlier concept art for the defunct Jon Favreau production. Think wider mouth, squatter feet and sweeter disposition.