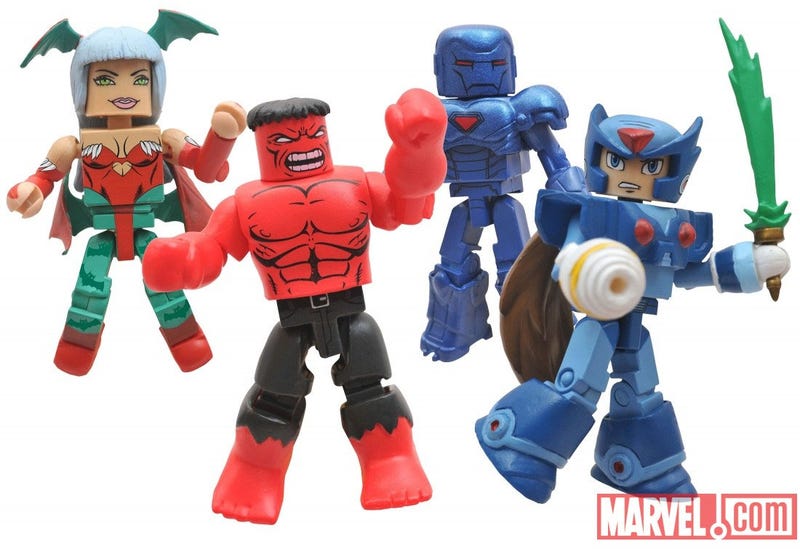 The cruel economics of Comic-Con dictate that gee-whiz collectibles (produced in ludicrously small quantities) will be rewarded to those who make the pilgrimage to San Diego. Here are the 2011 exclusives destined to whip convention-goers into a rampage.
You can find a full list of all the sellers' booths here. Comic-Con exclusive information tends to come out in drips and draps, so we've listed the prices as they're available. Also, a few of these doodads may be sold online after the convention (but the odds might not be in your favor).
First off, Toys"R"Us' Marvel Vs. Capcom 3 alternate color scheme Minimates collection, available at the Entertainment Earth booth. The line-up: stealth Iron Man, Red Hulk, Morrigan, and a Mega Man-colored Zero. They'll also be on-sale in limited quantities online July 24, the day Comic-Con wraps up.

Toys"R"Us will be releasing a DCU vs. MOTU: Bizarro vs. Battle Armor Faker action pack at the Entertainment Earth booth. Clones who talk funny, all in one box! Toys"R"Us' will also be selling this set online after SDCC.
There will be a bunch of exclusive Locke and Key model keys by Skelton Crew Studio on sale at the IDW booth for $20-$25.
Toy supervillain The Sucklord will be releasing 40 of his Lavender Guardsman for $69 a pop at the DKE booth.