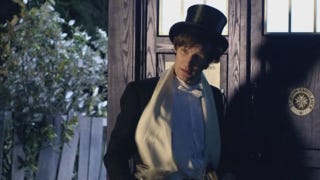 When Doctor Who descended on San Diego Comic-Con in 2009, the British time-travelling juggernaut brought along megastar David Tennant and producer Russell T. Davies. But Comic-Con still stuck the Doctor in Ballroom 20, the smaller hall where television shows go.
This year, the show's bringing Matt Smith and Karen Gillan — and it's getting a spot in Hall H, the giant 6,000-seat auditorium where the big studios show off their movies.
It's just part of a trend — 2011 is the year that television dominates Comic-Con.
Besides Spider-Man and the possible inclusion of The Avengers, is there any movie coming to SDCC that fans are more excited about than Game of Thrones? Or Doctor Who? Is there a movie with a more heavy emphasis on special effects and big concept than Terra Nova?
While movie studios are staying away from Comic-Con, television shows are making a bigger impact than ever. That's partly because there are more television shows that are generating excitement among the core fan audience that Comic-Con represents. And partly, it's because with survival on television a riskier proposition than ever, almost every show needs to generate a lot of excitement just to stay alive.