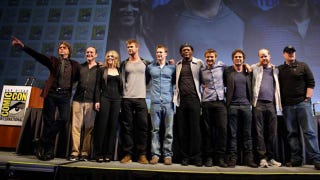 We've been saying for weeks that there's no way The Avengers would skip out entirely on Comic-Con. SDCC without Joss Whedon is like Christmas without Santa Claus. And the rumor mill is whispering that The Avengers will assemble once again!
First Showing has the inside scoop on Disney and Marvel's plans for marketing The Avengers outside of Hall H:
The main focus will be S.H.I.E.L.D., similar to the badges at WonderCon, and they will have actual set pieces from the movie placed on the showfloor as part of a faux-security and recruiting station for S.H.I.E.L.D.
Last year Marvel erected an impressive recreation of Odin's throne room for Thor. This year First Showing guesses that it might have something to do with S.H.I.E.L.D. Helicarrier (clearly not the entire thing, but perhaps a model or a certain room. Everyone is also whispering about the video that will allegedly be playing at said booth (and most people think it's the much rumored about early teaser trailer for The Avengers).