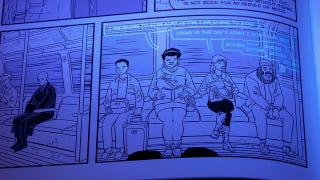 Yes, the Transmetropolitan author has penned a book whose hidden story you must read by black light. Plus, new issues of Fear Itself and Flashpoint, and Joe Casey pens Magneto up to his old supervillainous shenanigans.
First Issues
One of the more intriguing releases this week comes from writer Joe Casey — the miniseries Vengeance promises to take an in-depth look at Marvel's many malefactors. Is it tied in with that old 1980s Acts of Vengeance crossover? Is it an alternate reality tale? It ain't exactly clear. We do know that Vengeance involves Magneto, Red Skull, and a whole mess of new villains misbehaving.
Speaking of that evil Crimson Cranium, Greg Pak pens a Red Skull miniseries to coincide with that new movie about patriotic Cherry Coolattas or something.