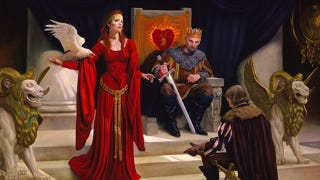 There were two miracles about Game of Thrones season one: that it was so true to the book, and that it was so brilliant on its own terms. For season two, the show will have to choose one miracle.
With the second book in George R.R. Martin's A Song of Ice and Fire series, the saga becomes much more diffuse, and a ton of new characters are introduced. It's also a good deal longer and more complicated than the first book. But the television version will still only have 10 episodes to tell the entire story.
Top image: A Clash of Kings cover art by Stephen Youll.
As producer David Benioff recently said: