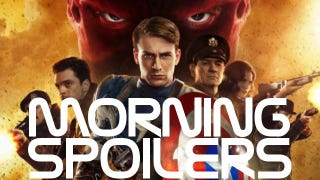 Hugh Jackman reveals when The Wolverine will begin shooting. John Noble has a plan for peace between universes on Fringe. How will Game of Thrones handle all the new season two characters? Plus new Captain America and Harry Potter videos!
It's spoilers all the way down!
Top image from Captain America.
Thor 2
Disney and Marvel have confirmed they are going ahead with a sequel, with Chris Hemsworth definitely returning in the starring role. Unfortunately, Kenneth Branagh will not be back to direct, although his departure is described as "mutual and amicable" and that he might end up working on the film in a producing capacity. The studios have set a release date of July 26, 2013. [Deadline and ComingSoon.net]
---
Captain America
Here are three new TV spots. [ScreenRant]

And here's a new international poster.
---
The Amazing Spider-Man
Actress Hannah Marks has a small role in the film. Here's her description of her character:
I am playing the school nerd, Missy Kallenback, and I have a crush on Spider-Man. But, of course, I don't know he is Spider-Man so I actually have a crush on Peter Parker. So I am mostly swooning over him in it.
---
The Wolverine
With James Mangold now officially on board as the new director, Hugh Jackman says the film will likely start shooting in October, with the release date coming about a year after that. [IGN]
---
Man of Steel
The movie is currently hiring firefighters and paramedics as extras in the "Metropolis Fire Department." [NBC Chicago]
---
Prometheus
One detail we missed while responding to Ridley Scott's strange thoughts about Eric van Daniken - Scott has also confirmed that the ship in the movie is called Prometheus, and that it is sent from Earth on a mission by the sort of all-powerful corporation that were such a big force in the original Alien movies. [The Hollywood Reporter]