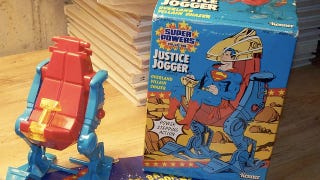 Ah, the Batmobile. Bruce Wayne's jalopy has gone through oodles of iterations ranging from Adam West his-and-his windshields to Christian Bale's wheeled samurai empanada. But on some occasions, the Batmobile won't suffice. Here are the unsung vehicles of comics.
Sure, the Batmobile has every power you'd ever want from a crimefighting automobile: smoke bombs, rockets, bulletproof siding, and unadulterated iconic cool. The Batman: The Animated Series model even had the power to look like a dildo designed by H.R. Giger.
But the problem with the Batmobile is that it's been a little too successful in its own branding. Indeed, it is the paragon of a superhero car, but familiarity breeds complacency and imitation. When you peel up to stop Two-Face from robbing a pizzeria ("I'm going to add artisanal pancetta to one side of this pie and strychnine to the other!"), his goons won't know if you're the Caped Crusader or a children's birthday party entertainer.
Gotham City was once probably littered with the corpses of panhandling Batmen until they wised up and began dressing like superheroes nobody cares about. Yes, the Hollywood Boulevard of Gotham is probably shoulder-to-shoulder with Wonder Twins imitators.