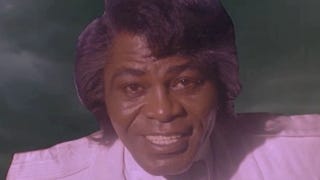 In 1987, Miami Vice served up "Missing Hours," an episode that's considered to be the worst hour of pastel-soaked cop drama ever created. You wouldn't think Crockett and Tubbs would have an extraterrestrial encounter...but they did. And it was funky.
This astoundingly odd episode guest-starred James Brown, whose fee was so sizable they fired all the scriptwriters (this is a lie). "Missing Hours" walks the line between inept and magical, so we've excised all the dreck and cherry-picked the most boneheaded bits. Enjoy.

The episode opens with Detectives Stan Switek (Michael Talbott) and Trudy Joplin (Olivia Brown) staking out porn dealers. They've recruited two small-town crooks dressed as aliens to distract the smut merchants.
Suddenly a strange fellow appears, mistakes the crooks for real aliens, rips off his shirt, drops 24 jars of peanut butter, and dies careening through a window. The porno dealers are the audiences' proxies, their profound befuddlement perfectly synched with ours.

Trudy finds a picture of a house boat among the dead man's possessions. She goes to investigate, discovers a circle of peanut butter, and James Brown Miami Vice universe R&B superstar Lou De Long. I won't even try to describe what happens next.

While Trudy's face is melting with the Godfather of Soul, the dead guy's corpse disappears and Sonny Crockett interviews the dude's widow (turns out she was once abducted by aliens). Carson the records clerk (a nine-year-old Chris Rock) materializes and begins yelling about the internet. Everyone tells him to STFU except for William Adama. Detective Trudy comes back. She feels good!

Trudy begins to suspect she's been abducted by aliens. Crockett and Ricardo Tubbs (Philip Michael Thomas) bring Lou De Long (who's the leader of a New Age Unarian style spiritualist movement) to Trudy. And — like that one time James went on CNN — reality melts once again.