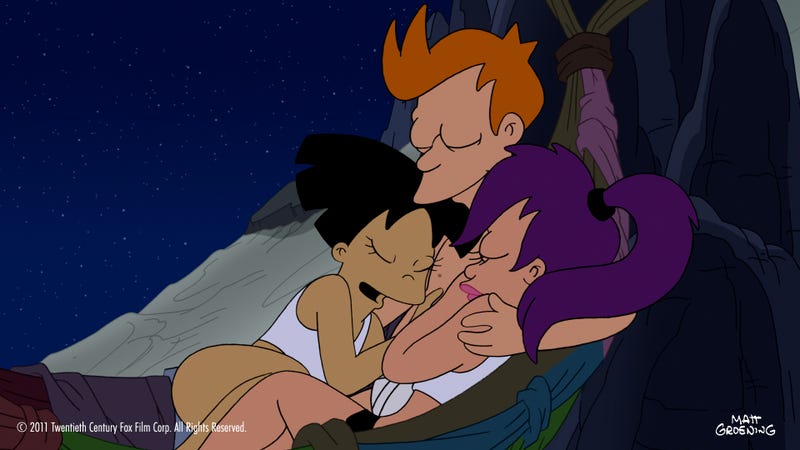 Two of television's great champions return this week: True Blood is shaking things up with some major changes in Sookie's life. And Futurama is shaking up its characters in... a very different way. But Leverage and Burn Notice also return.
And that's not all! This week's television also promises a Star Wars sand sculpture at Legoland, a huge apocalyptic spectacle, mind-controlled cheerleaders... and the Incredible Hulk-Frost Giant smackdown you never knew you wanted.
Today:
Syfy is having a Sanctuary marathon all day to get you ready for the season finale tonight.
There's another Johnny Test at 7 PM on the Cartoon Network, in which Johnny Test wants to take part in the Running of the Squirrels, but his mom thinks it's too dangerous. Dood! That's followed at 7:30 by a new Amazing World of Gumball. Then there's the season finale of Mad at 8:30, and the season finale of Problem Solverz at 8:45.
Teen Wolf is on MTV at 10 PM, with "Magic Bullet," in which a new hunter comes to town bent on killing... you'll never guess whom. The peeps over at Oh No They Didn't say the show is "starting to find its feet." Do you agree?
Also at 10 PM: the season finale of Sanctuary on Syfy, "Into the Black." In which:
The Sanctuary receives alarming news that a large group of Abnormals has been spotted at the entrance to a cave in South Dakota. Magnus knows immediately that this is the first wave of Abnormals surfacing from Hollow Earth.
Tuesday:
At 7:30 PM, the Cartoon Network has another new Scooby-Doo: Mystery Inc., "Menace of the Manticore." That's followed by another episode of the Looney Tunes Show at 8 PM.
And then at 9 PM, there's a new episode of The Nine Lives of Chloe King on ABC Family, "Redemption." We watched this episode the other day, and it's a lot of fun.
Still getting used to her new powers, Chloe can't get past the fact that she is responsible for Xavier's death. Will she be able to handle not just her newfound abilities but the life-altering limitations it puts on her relationships with others?
Wednesday:
Syfy is showing episodes of V: The Series until 3 PM.
Also, Mythbusters is back at 9 PM, with "Let There Be Light":
Adam and Jamie decide to take on the roles of tomb raiders as they anxiously test out ancient mirrors and their ability to light up a tomb. Meanwhile, The trio tests whether or not they can stop a high-speed runaway car by using another car to pull in front of the runaway and stop it.
And then at 10 PM, there's a new episode of Through the Wormhole with Morgan Freeman, on Science. I'm now hearing that Morgan Freeman will be launched into a wormhole unless you watch this show. So it's up to you to save him. In this week's episode, "Does Time Really Exist?"
Thursday:
Today's Syfy mini-marathon: episodes of Twilight Zone until 3 PM.
At 8:30, NickToons has the fourth episode of Voltron Force, "Coran, Coran."
The Voltron vets try to save Coran, but they fall into a trap set by Wade. Meanwhile, the cadets deal with a Coran impostor, who's really a dangerous robot rigged with a bomb.
And then at 9 PM, there's the fifth season premiere of Burn Notice, "Company Man."
Also at 9 PM: the season finale of Known Universe on National Geographic, with "End of the World."
But more importantly, there's the one-hour midseason premiere of Futurama at 10 PM on Comedy Central. First, in "Neutopia," "We encounter an alien that does not understand the concept of 'gender' and so when it meets the crew it goes about conducting experiments such as altering their own genders." And then, in Benderama, the Professor invents a machine that makes half-size duplicates of things, and uses it to create sweaters small enough for his shruken frame. He assigns Bender to fold these sweaters, but Bender decides it would be easier to create miniature duplicates of himself to do this task instead. Except, the duplicates have the same idea...
Also at 10 PM, the debut on FX of Wilfred! In which:
Elijah Wood stars as "Ryan," an introvert struggling to make his way in the world until he meets "Wilfred" (played by Gann, co-creator of the Australian series), his neighbor's canine pet. While the world sees Wilfred as a dog, Ryan sees Wilfred as a man dressed in a dog suit. Co-stars include Fiona Gubelmann as "Jenna," Ryan's attractive neighbor and Wilfred's owner and Dorian Brown as "Kristen," Ryan's uptight sister.
Friday:
National Geographic is having a special at 8 PM: Ultimate Predators: Jaws of Death! I almost mis-typed that as "Jawas of Death," which would be a little different. And that's followed at 9 PM by Ultimate Predators: Killer Instincts.
There's a new Wizards of Waverly Place on the Disney Channel at 8 PM, with "Beast Tamer." I've heard this show has gotten kind of disturbing lately, which might be the best reason to start watching it.
Saturday:
The Hub is having its random grab-bag of Transformers and G.I. Joe cartoons as usual from 7 to 9 PM.
At 8:30 PM, the latest episode of Supah Ninjas is called "Dollhouse." A secret tribute to Joss Whedon's unappreciated masterpiece? Judge for yourself:
When Amanda is kidnapped by a villain who turns people into living dolls, Owen and Mike must infiltrate the villain's lair to rescue her.
BBC America is showing the first two episodes of the Battlestar Galactica series, "33" and "Water," from 7 to 9 PM. That's followed at 9 PM by episode two of the BBC's Outcasts, in which:
News of a missing survival shuttle sends Cass, Fleur and Jack outside the settlement in search of Stella's daughter. Stella and Tate are confronted by their old foe, Julius Berger.
Once again, here's our review of the first couple of episodes.