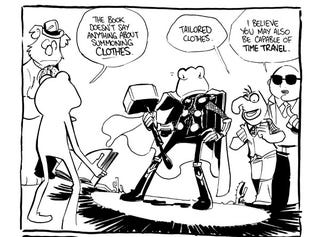 Who is worthy to wield the hammer of Thor? Well, Kermit the Frog for one. And what he does with Thor's power might just leave you with a tear in your eye.
Caanan Grall, creator of the vibrant (and terribly funny) webcomic Max Overacts and Zuda's fantastical body-swapping comic Celadore, participated in this year's Comikaze 24-hour comic challenge with a Jim Henson-inspired parody of the current Thor movie.
Muppets are apparently in the pop cultural ether with their upcoming movie; just a few weeks ago, we saw the Muppets cast as the crew of Firefly's Serenity, and now they've wandered into the Thor flick.