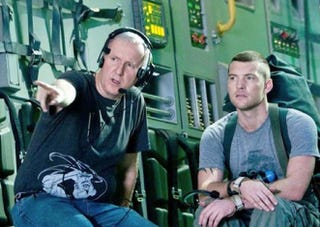 James Cameron and Sam Worthington are back in the saddle together, making more huge budget productions. Their latest venture? A film called Myth.
THR is reporting Fox has picked up Cameron's latest passion project, an idea from writer Will Staples titled Myth. (You may be familiar with Staples' work on video games such as Call Of Duty.)
Worthington is attached to the project with Cameron, both as producers, with Hollywood big wig producer Lorenzo di Bonaventura (who is also currently working on the Pet Sematary remake. Will Worthington appear in the film? Nobody knows for sure yet. But as of right now, Cameron is not directing and Worthington is not acting — they're just producers.