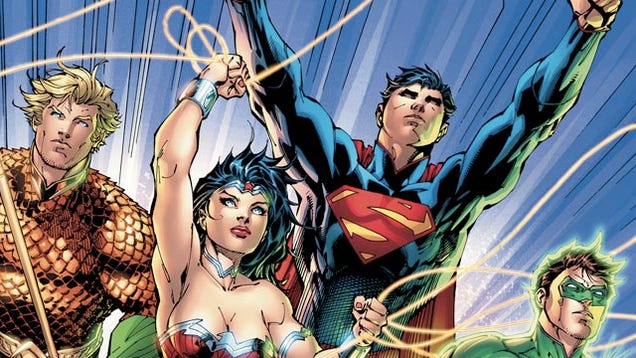 You may have noticed that DC Comics is audaciously canceling their entire superhero line and restarting it with 52 first issues come September. Details about this relaunch are still fairly murky, but here's a primer on what we do know.
Also, check out a complete listing of the cover art and synopses for all 52 new books.
In terms of story, what's causing this relaunch?
DC is currently publishing their big summer comic Flashpoint, in which the Flash is trapped in a dystopian DC Universe where a Y-chromosome-hating Wonder Woman and a tyrannical Aquaman are destroying the planet. It's a safe bet that the altered timeline of Flashpoint is in some part responsible for all of the new stories we'll see in September.
Furthermore, DC Comics has a history of allowing their big events streamline their characters' origins. Storylines like Crisis on Infinite Earths and Zero Hour. Sometimes this tactic works, sometimes it just makes things more confusing.
What's going on with these characters — are they being totally reinvented or just slightly rejiggered?
It's unclear what aspects of the characters' histories will be altered. For example, heroes like Aquaman and Batman are seemingly coming out unscathed, whereas others seem to be getting an extreme overhaul. For example, erstwhile Batman protégé Tim Drake is being touted as a blogger-turned-superhero. Also, Wonder Woman and Superman are rumored to be shacking up in this continuity.
What are some of the more radical character overhauls we'll be seeing?
Perhaps the most controversial change we've seen thus far is the return of Barbara Gordon to active service as Batgirl. In the famous Alan Moore-penned one-shot comic The Killing Joke, the Joker's bullet paralyzes Barbara. She later takes the identity of the superhero information broker Oracle and leads the Batman-affiliate team Birds of Prey.
Barbara's carried the Oracle mantle for 20+ years, so it's a little weird such a substantial character arc could be magically poofed away. On the other hand, long-time Birds of Prey scribe Gail Simone is writing Batgirl, so at least this change is being written by someone who knows Barb.
Another big change is the incorporation of the Wildstorm Universe into the DC Universe. Three titles out of the 52 — Stormwatch, Voodoo, and Grifter — are bringing in characters from the recently folded Wildstorm imprint to mainstream DC continuity.
That means Wildstorm characters like Apollo and the Midnighter — who were invented by Warren Ellis as alternate dimension gay analogues of Superman and Batman — could very much be hanging out with the real Man of Steel and Caped Crusader. Indeed, one-time Justice League member Martian Manhunter will be joining Apollo and the Midnighter in Paul Cornell's Stormwatch.
Also, characters that were once the purview of DC's mature-readers Vertigo imprint are now being rolled into the DCU fold. Heroes like Swamp Thing and the streetwise mage John Constantine were recently incorporated back into the DC Universe during the Brightest Day miniseries.
Finally, everyone's getting new costumes designed by DC co-publisher and artist Jim Lee. For example, Superman can be seen rocking denim on the cover of Grant Morrison's Action Comics and no red underpants on Superman. With great upheaval comes fantastic spandex.
What comics aren't part of the new DC status quo?
As of now, DC doesn't have any Justice Society of America books planned. Also, fun titles like John Rozum's Xombi and Gail Simone's Secret Six are conspicuously inconspicuous. Heroes like Captain Marvel, the Doom Patrol, the Atom, and former Teen Titans Raven and Beast Boy are nowhere to be seen. Grant Morrison's Batman Incorporated is being put on hiatus until next year.
What characters did you hope would get a reboot and didn't?
The Rainbow Archer, Egghead, and Wild Dog.
Which comics are you most excited for?
I'm curious what We3 author Grant Morrison has cooking up for Action Comics, even if it looks like Superman's been taking sartorial cues from Bibbo Bibbowski. Also, I think Peter Milligan's Justice League Dark looks entertaining (like a Justice League Vertigo book), and the idea of Martian Manhunter teaming up with The Authority in Stormwatch could be wacky enough to work. Brian Azzarello of 100 Bullets fame could give Wonder Woman a solid creative vision ever since her denim jacket look and crazy-ass TV show failed to take off.
I'm also happy to see underused characters like Swamp Thing, Animal Man, and Jack Kirby's awesomely coiffed hero OMAC. Superheroes with mohawks need to come back big.
With 52 new issues, a bunch of these won't make it past a couple months, but we're rooting for some of the more oddball debuts. Here are all 52 comics out come September. It's also worth noting that DC is releasing these comics digitally the same day they hit comic shops, an unprecedented move for a comic book publisher of DC's size.
---

Covers via iFanboy, Comics Alliance, Comic Book Resources, Newsarama, Bleeding Cool, and The Source.