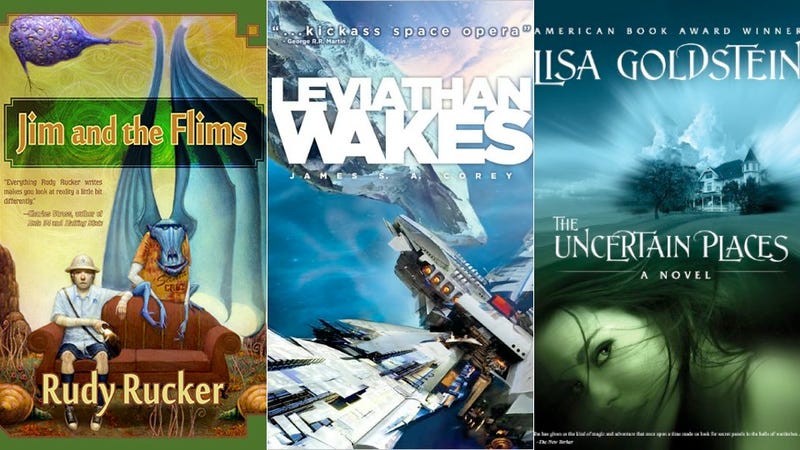 Looking for something to stick in the beach bag? This month brings new novels by Jacqueline Carey and Laurell K. Hamilton, plus zombies, vampires, robots, and some levitating kids.
Robopocalypse, Daniel H. Wilson (Doubleday)
Anyone who's ever tried programming a coffee maker knows it's merely a matter of time before the machines rise against us. Daniel H. Wilson posits how their rebellion might play out. Not too long from now, we've completely given over our menial tasks to the robots. Everything's hunky dory until an AI starts converting all of them into mindless killing machines. The story is told as an oral history, in the style of World War Z, using "primary sources" and interviews with survivors.

Raising Stony Mayhall, Daryl Gregory (Del Rey)
It's 1968, in the wake of the first zombie outbreak. The Mayhalls find a teenager dead in the snow, her baby beside her. Despite distinctly lacking a pulse, the child starts squirming and looks up at the family matriarch. They name him Stony and raise him as one of their own. But every child leaves home eventually, and the zombie boy eventually has to make his own way in a world that isn't very friendly and doesn't make much sense.

Naamah's Blessing, Jacqueline Carey (Grand Central Publishing)
The ninth book in Carey's D'Angeline series and the conclusion to her Moirin trilogy, Naamah's Blessing picks our heroine's story as she returns to Terre d'Ange. The king is a grief-wracked wreck. He asks Moirin to serve as a protector to his practically abandoned three-year-old daughter Desirée, around whom political plots swirl furiously. And then, if that's not enough, she's dispatched to the New World, where she has to face her ex, Raphael de Mereliot. (Review here.)