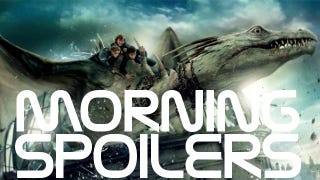 Ever since Christopher Nolan confirmed Bane would appear in his final Batman film, fans have wondered whether the villain would emulate his brutal actions in the comics. And now the first rumor about Bane's movie storyline may answer that question.
Plus Shia LeBeouf tries once more to convince us that this Transformers movie will be different.
And Mark Strong explains the look of the Martians in John Carter.
We've also got new videos for Green Lantern, Captain America, and Transformers: Dark of the Moon.
And the executive producer of Warehouse 13 reveals tons of new season three guest stars!
Spoilers from this point forward!
Top image from Harry Potter and the Deathly Hallows: Part II.
The Dark Knight Rises
This is the alpha and omega of all crazy Batman 3 rumors, and I'm honestly just surprised it's taken the rumor mill this long. Someone claiming to be an inside source is now saying what lots of people on the internet have been sorta assuming for a while now:
"Bruce Wayne/Batman & Bane will certainly clash hard in The Dark Knight Rises and I can tell you this much, during their first fight against one-another, Bane WILL break Batman's back!"
Of course, everyone who has reported this so far has said to take it with a grain of salt, and with good reason. If nothing else, it seems like a weird idea to break your hero's back at the beginning of his final movie, unless they're going to do some weird time jump or something to gloss over his recovery time. Anyway, this is now officially a crazy rumor... and pretty much nothing more than that. [IGN]
Morgan Freeman revealed he starts filming in three weeks, while Michael Caine said he starts next week. [IGN]
Meanwhile, in mildly embarrassing but still fundamentally adorable Anne Hathaway news, the actress has reportedly had a second fight scene mishap. (We mentioned the first in last Thursday's post.) Here's the inside source: