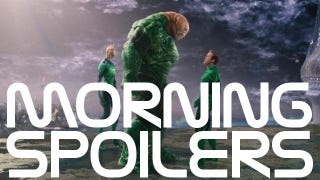 Tron 3 and the new Daredevil movie find writers, while another legendary fantasy author might write for Doctor Who. Russell T. Davies discusses Captain Jack's big change on Torchwood, plus a new Warehouse 13 promo reveals a returning guest star!
Spoilers from here on out!
Top image from Green Lantern.
The Dark Knight Rises
It looks like Wayne Manor will definitely be back for the third movie, and it appears two stately British homes will play the part. One report says that Osterley Park, a late 18th century London estate, will be used for filming from now until July 3. According to Hollywood Chicago:
"Osterley Park is the inside of Wayne Manor for The Dark Knight Rises. Three rooms will be used: the dining room, the study and a third room we don't currently know. It was mentioned the study has a secret exit that will lead to the Batcave. We are guaranteed a sighting of Alfred (Michael Caine), Bruce Wayne (Christian Bale) and I think Selina Kyle/Catwoman (Anne Hathaway) as she's likely to be having dinner with Bruce."
Meanwhile, the Elizabeth mansion Wollaton Hall will reportedly double for the exteriors of Wayne Manor. [IGN]
---
Daredevil Reboot
Fox's reboot of its other, other Marvel superhero property has now found a writer, as Fringe producer Brad Caleb Kane has reportedly signed on to write an adaptation of the classic Frank Miller and David Mazzucchelli "Born Again" storyline. [Heat Vision]
---
Tron 3
The Tron Legacy sequel will have a new writer, reportedly in the form of Eight Below screenwriter David DiGilio. [Heat Vision]
---
Luna
Bourne Identity and Jumper director Doug Liman's film about "renegade scientists who build a spaceship from spare parts to steal an energy source from the moon" has found a home at Paramount. Liman's casting shortlist reportedly includes Bradley Cooper, Chris Evans, and Andrew Garfield. [Variety]
---
Indiana Jones 5
Shia LeBeouf took some time out from weirdly defending Michael Bay's honor to discuss the possibility of another Indy movie:
"I talked to Harrison Ford. He said he's staying in the gym, he said he's heard no word, but he does know that George Lucas is out there looking for a MacGuffin. He said he's staying in the gym, so it means the movie is not so far off."
---
Breaking Dawn
Twilight author Stephanie Meyer will make a cameo appearance at Bella and Edward's wedding, which I can only assume means the future Mr. and Mrs. Cullen are now just inviting random diner customers to their special day. [Fangoria]
---
Doctor Who
Sure, series 6 is only half-done, but series 7 is the focus of news right now. First up, although 14 more episodes of Matt Smith's Doctor are indeed confirmed, there's some question whether all of series 7 will air in 2012. Here's the relevant quote from a BBC spokesperson:
"The new commission is a big commitment, not many other shows have such a commitment so far in advance. We do not know yet how many will air in 2012."
Apparently, a "good chunk" of them will air in 2012, whatever that means. Honestly, I'm guessing series 7 will end up airing all its episodes in 2012 just like the series before it, and the BBC is just trying to be as vague as possible. But I guess we'll just have to wait and see. [Guardian; thanks to commenter Scotchka for the tip!]