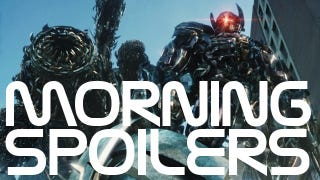 Could Terminator 5 still forge ahead, even without Arnold Schwarzenegger? Sam Worthington declares war on outer space, while Big Man Japan comes to America. Plus a Dark Knight Rises set photo, more on a Green Lantern cameo, and more!
Spoilers ahead!
Top image from Transformers: Dark of the Moon.
The Avengers
An article on the economics of big budget movie-making features a quote from "one producer familiar with Marvel's dealings", which suggests that, in order to keep costs down, the movie's biggest name star Robert Downey Jr. will work only three or four weeks, while the film maximizes the screentime of still relatively cheap actors like Chris Hemsworth and Chris Evans. [New York Magazine]
---
The Dark Knight Rises
Here's a set photo of a man in a black mask jumping out of a Croydon skyscraper, which looks a bit like the scene we heard about yesterday, except Bruce Wayne is nowhere to be seen. The obvious conclusion here is that the man in the suit is Bane, but the fact that he's wearing a black mask has pretty much forced the internet to wonder whether it's really Black Mask. (I mean...it's right there in the name.) Or it could be another random villain or henchman. What we can say for certain is this - the latest Batman movie will feature someone jumping out a window. Or maybe that's just what Christopher Nolan wants us to think. [MovieWeb]
---
Green Lantern
Here's a bunch of new clips.

Following up on yesterday's news about Nick Jones playing possible future Green Lantern John Stewart, commenter sick_and_ashamed pointed out that Jones had previously tweeted he's playing an ex-marine who meets Ryan Reynolds's Hal Jordan at a bar. That would tie in with another Jones comment that "I can only say if you have read Secret Origins, you kind of know where we are going." Since Jordan and Stewart get into a barroom brawl in the recent Secret Origins book...well, I guess we do now kind of know where they're going. We will continue to cover every last detail of all this until we solve the mystery or lose interest, whichever comes first.