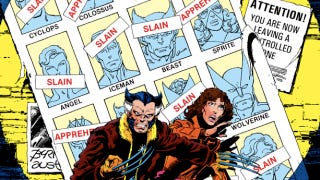 The X-Men have been around for 48 years, but in the comic books, they've been saving the world for approximately 16 years. In that time, there's been so much crushing tragedy in their lives that it's downright comical.
Unlike Superman or Spider-Man, the X-Men have never had their entire history rebooted, so deaths, magical resurrections, marriages, and divorces just keep piling on like automobiles on some sadistic freeway that ends with a brick wall. And if we're to compress their entire history into 16 years, their story becomes a non-stop carnival of characters dying every other month. Xavier's isn't a school — it's a damn grief crisis center.
First off, some of you may be wondering where I got the "16-year existence" figure. According to TV Tropes, Stan Lee introduced this ratio in the 1960s, and Marvel's more or less stuck with it:
In a "Stan's Soapbox" in the mid-1960s, Stan Lee stated that, as a general rule of thumb, they were trying to keep the then-new Marvel Universe on a one-to-three timeline - every three years that passed in the real world would be a year of Comic Book Time. Deliberately or otherwise, Marvel actually managed to stick pretty close to that right up until the early 1990s when, during one of the X-Men's 30th Anniversary comics, Professor Xavier mused about the things he'd been doing for the past 10 years - starting with the founding of the X-Men.
By and large, the 1-comic-book-year-to-3-real-years ratio works for the X-Men. The first issue of Uncanny X-Men — which had a teenaged cast — came out in 1963. It's now plausible that the founding X-Men (like Cyclops and Beast) are in their early 30s. Similarly, Kitty Pryde was 13 when she first appeared in 1980 — 30 years later, she's in her early 20s.
So when we convert the X-Men's 48-year publication history to a 16-year timescale, the result is unintentionally hilarious. The X-Mansion's constantly blowing up, characters who die on Christmas resurrect by Labor Day, and Charles Xavier's perpetually jumping in and out of his wheelchair. Can you imagine living in this reality? The X-Men must have their neighborhood funeral home on speed dial.
To get a temporal sense of how screwed-up the X-Men's lives are, let's assume that Charles Xavier began the team 16 years ago in early 1995. I didn't include every single X-Men tragedy because I'm not writing a graduate dissertation in Wolvernomics. So indeed, strap yourself in for a nonstop barrage of unlucky superheroes getting tossed into the narrative meat grinder.
---
Winter 1995: Professor Charles Xavier, a psychic Daddy Warbucks, rounds up a bunch of precocious teenagers and forms the X-Men. (Uncanny X-Men 1, 1963)
Summer 1996: Aliens murder the secret X-Man Changeling. Changeling is the first team member to kick the bucket, but he's in the form of Professor X at the time. Ergo, nobody mourns Changeling. (Uncanny X-Men 42, 1968)
Winter 1999: Due to low sales, the X-Men were cancelled for five years. When the X-Men were resurrected, X-Man/Native American stereotype Thunderbird dies in a plane explosion...after appearing for all of two issues. (Uncanny X-Men 95, 1975)
Summer 2000: Jean Grey becomes possessed by a primordial cosmic force known as Dark Phoenix. To nourish herself, she consumes a distant star, which supernovas and kills billions of confused aliens. Another alien race known as the Shi'ar condemns Jean to death in a trial by combat. Jean commits suicide to prevent herself from destroying the universe. Everyone cries. (The Dark Phoenix Saga, 1980)