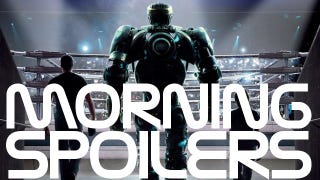 More key returning players are confirmed for The Hobbit. Mark Strong explains why Green Lantern's Sinestro isn't your average villain. Steven Spielberg and J.J. Abrams talks Super 8 together, plus another glimpse of season four of True Blood!
Spoilers from here on out!
Top image from Real Steel.
Green Lantern
Sinestro actor Mark Strong explains how his character fits in with Hal Jordan's other trainers:
Kilowog is his physical trainer and Tomar Re is his spiritual guide, but I think Sinestro doesn't really put him through his paces in terms of training as such. There is a scene where they meet on what are called the training platforms where Tomar Re and Kilowog are putting him through his paces and Sinestro introduces himself to Hal in a very physical way, is the best way of putting it. And it's all to do with his feelings about the death of Abin Sur, his personal mentor. And his attitude towards humans becoming members of the Corps, and it's pretty explosive. And at that stage, I'm not even sure he believes Hal is going to survive. So he is not a trainer in a sense, but he's certainly a hard taskmaster.
He also explains why he finds Sinestro particularly compelling as a (future) villain:
I think an earthbound human villain often is just a broad stroke within the narrative, and is designed to be there to enable the good guy to win in the end and to give us something to bounce off that we hate….There's a lot of pain in [Sinestro's] background, and there's a rich kind of vein of stuff to draw on from him.
---
Hawkman
According to one Hollywood production website, a Hawkman movie is now in the development process. Of course, even assuming the information is legitimate, that doesn't mean you should start planning the premiere party just yet, as plenty of superhero movies have been stuck in development for years on end with little or no progress to show for it. Looking at you, the Flash...or really any DC superhero who isn't Batman, Superman, or Green Lantern. [Badass Digest]
---
Super 8
Check out the link for a lengthy interview with J.J. Abrams and Steven Spielberg about how the project came about. [Empire]
---
Transformers: Dark of the Moon
Here are some more images. [TFW2005]
We already discussed the novelization spoilers, but here's another roundup of plot points from the junior novelization. [Comic Book Movie]