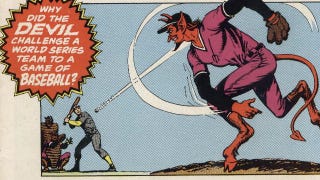 It's Memorial Day here in the States. The sultry weather makes my mind turn to stupidly awesome comic books, namely DC Comics' Strange Sports Stories, a short-lived 1973 anthology about the unfathomable cosmic dangers inherent in physical activity.
In Strange Sports Stories, Satan loved baseball and the history of the human race depended on knocking a high school basketball team down a peg. Here are 10 marvelously screwball panels from this six-issue Silver Age series.
DISCLAIMER: The title of this article should include the addendum "10 scenes from the most ridiculous sports comic ever published (that are not NFL SuperPro)."