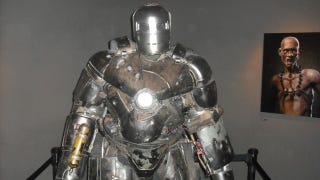 This life-size, old school Iron Man armor was on display last night at LA's Gnomon Gallery, alongside props and concept art from Avatar, the Iron Man movies, Pirates of the Caribbean: On Stranger Tides, I Am Number Four, and more.
We headed to the gallery, located on the campus of the Gnomon School of Visual Effects, in order to check out what was on offer at the exhibition, entitled "The Art of Legacy Effects," and the entire exhibition was a showcase for the company's various artists.
While some of the prop designs more or less ended up in the finished film, a lot of the concept art represents a radically different vision from what ended up on screen. We've got a full set of photos showing the various pieces on display in the gallery on the left, and we also took the chance to talk with a couple of the people behind the exhibition.
We spoke with Alex Alvarez, who founded the Gnomon School back in 1997. He explained that the school began as a way for people from various studios to teach each other about 3D effects - something that was at the time still in its infancy - but has since expanded into a more general school for students wanting to work in animation and visual effects. We also talked about the Gnomon School last year; here's our earlier post.