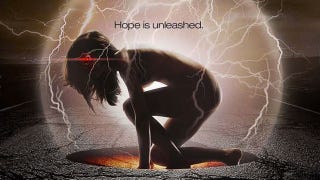 Due to some recent indiscretions, Arnold Schwarzenegger has decided to pull the plug on his resurrected acting career. Which everybody's assuming means no Terminator 5. But wait — there are plenty of great ways to make a Terminator without Arnie.
Here's our list of great Terminator storylines that you could make without the Governator.
Just because Schwarzenegger can't be in the new Terminator film does not mean Hollywood should throw in the towel on revamping the series. In fact, this is the perfect opportunity to let this story shine! Here's how it could work.
Just Make A Terminator: The Sarah Connor Chronicles Movie
We loved it. You loved it. There's still plenty of juice to be had here. Let's revisit TSCC one more time. The movie could pick up right where the series ended (with John Connor jet setting into the future). Hell there's already a rough outline for the future plot line according to the show's executive producer James Middleton.