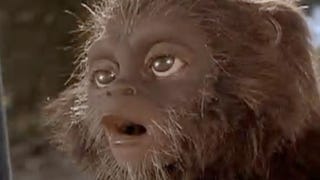 Not every cinematic Bigfoot's as dashing as Andre the Giant in a fur suit. No, some celluloid yetis and sasquatches are downright mediocre. Here are 10 of the cheapest, most inept, or grossest lost hominids ever to grace Hollywood.
10.) To Catch A Yeti
In this totally abysmal 1995 TV movie, a yeti disgusting mewling gremlin puppet somehow ends up in Manhattan. Meat Loaf is in it as a yeti hunter who'd do anything for pelts. Mr. Loaf's Marvel Comics Special Olympics ad had a more coherent plot than this film (which I may or may not have sat through when I saw it on HBO).
9.) MacGyver
On the 1987 MacGyver episode "Ghost Ship," Angus beats the myth out of an angry Bigfoot, who turns out to be a rubber-masked ruse by some dastardly oil thieves (but we hear the real Bigfoot's plaintive wail by episode's end). MacGyver defeats this fake Bigfoot by improvising the shit out of a log.
8.) The Legend of Boggy Creek
In this 1975 drama, the cryptid of Boggy Creek, Arkansas had no compunction visiting you on the bog.
7.) The Yeti from The Electric Company
I'm actually quite partial to the Yeti from the old Spider-Man Electric Company sketches. He's got a funky soundtrack like Sid and Marty Krofft's Bigfoot, and I'm of the firm conviction that all Bigfoots need their own porno themes. Still, that damn Yeti was getting his rocks off sitting in people's frozen desserts. That's unacceptable behavior, even for cryptids.