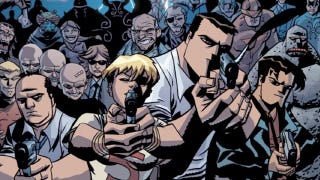 An anonymous tipster has sent us what appears to be the pilot script for FX's adaptation of Brian Michael Bendis and Michael Oeming's cop-and-superheroes series Powers. It reads like the real deal, complete with a heaping dollop of cable grime.
Spoilers from here on out...
A caveat before we begin. We have no way of confirming if this 63-page script is the official pilot or the most recent draft. This production script is dated May 7, 2011 and credited to Walking Dead producer and writer Charles H. Eglee, who's been attached to this project for a while.
I'm assuming this is legit for a couple reasons. First off, as popular and critically acclaimed as Powers may be in comic circles, it seems kind of strange that someone would go through the effort of making a hyper-detailed hoax script. For The Dark Knight Rises maybe, but not Powers. Don't get me wrong, I love Powers, but I don't know if it has the cultural pull to inspire such a meticulous fake.
Additionally, the leaked script seems to be following The Walking Dead model for comic-to-television adaptation. It draws heavily from an established story line — in this case, the inaugural "Who Killed Retro Girl?" arc — and leaves plenty of room for rejiggering in future episodes. All of the major players are introduced, and we get glimpses of familiar story arcs. For example, the fact that Christian used to moonlight as the superhero Diamond is made crystal clear by the episode's end.
When we received confirmation that Powers was being adapted for cable, we noted that FX would likely give the series' gritty plot room to breathe. The script sure keeps the cussing and ribaldry. Heck, Christian Walker pulls a balloon of narcotics out of a drug mule's ass when we first meet him ("This is the three finger interrogation. Wanna go up to the wrist-watch?"). Profanity is early and often (Triphammer on Retro Girl: "The girl was straight freak gash.") I don't remember the first arc of Powers word-for-word, but the dialogue definitely out-Bendises Brian Michael Bendis at points. It's a streetwise cop drama but with demigods levitating overhead.