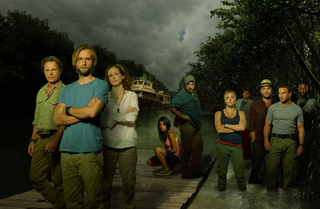 A good TV pilot tells you a complete story, and seduces you into wanting to see more. It provides a crash course in a TV show's world, and introduces a cast of characters. There's a lot of heavy lifting.
The pilot for Oren Peli's new show, The River, makes it all look easy. The director of Paranormal Activity has managed to compress a found-footage horror movie down to 45 minutes. Most of the major questions raised in the pilot are answered in the pilot, and this first outing, at least, feels like an addictive thrill ride. It's the best pilot we've watched in years.
Here's our early review — with no spoilers, beyond the synopsis the network has released officially.
First, a couple caveats: As usual, what we've seen are early not-for-air pilots that were released to press people. There's a strong chance that these pilots will change drastically before they ever air on television. And this is just our early gut reaction after watching the pilots — we'll be posting a proper review closer to the airdate, and of course we'll be recapping these shows.
Secondly, when we say "best pilot in years," though, that's not really saying much. Most TV pilots are absolutely horrible, even for shows that wind up being good eventually — for example, Fringe's pilot was kind of dull. We quite liked The Event's pilot last year, but it was already clear the show had potential flaws. But honestly, the last time I remember being on the edge of my seat watching a TV pilot was Terminator: The Sarah Connor Chronicles.