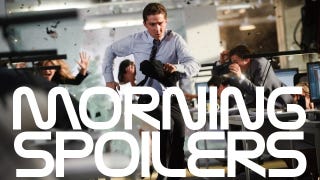 The Dark Knight Rises films an explosion and adds three cast members. Sherlock Holmes joins The Hobbit. Plus new photos for Transformers: Dark of the Moon, Super 8, and the new TV shows Alcatraz, Awake, and Grimm!
Spoilers from here on out!
Top image from Transformers: Dark of the Moon.
The Dark Knight Rises
In keeping with the casting of such random 80s stars as Anthony Michael Hall, Eric Roberts, and Rutger Hauer in the previous Nolan Batman movies, Full Metal Jacket's Matthew Modine has joined the movie in an unspecified role. The character is reportedly called "Nixon", which one can only hope means that the real big bad of Nolan's final movie is some sort of zombie Richard Nixon. Wild fantasies aside, two more actors have also been cast in unspecified roles - Stotsman Tom Conti and 11-year-old actress Joey King. [Variety]
The movie is currently filming an explosion scene in the Croydon area of London, although the actual blast itself will reportedly be computerized. The building that gets blown up is reportedly called Delta Point. There's no word whether the stars are involved in the filming, although there are rumors that Anne Hathaway will arrive for some London filming in the near future. [Metro]
---
X-Men: First Class
Some of the first press reactions are in, and while they're largely spoiler-free, the early reactions have been very positive, saying that this movie fits surprisingly well into Bryan Singer's X-Men canon, that the performances are all strong (with James McAvoy, Michael Fassbender, and Jennifer Lawrence getting special commendations), that the movie juggles a ton of elements and pretty much pulls it off, and that the film takes the material seriously without a hint of camp or parody. Check the links for more info. [HeyUGuys.co.uk and Bleeding Cool]
Here are two new TV spots.

Here's a behind-the-scenes video.

Here are some new character posters[ComingSoon.net and SpoilerTV]
---
Green Lantern
Michael Clarke Duncan discusses playing Kilowog:
[Kilowog] trains all of the Green Lanterns. [He's] a real type of tough guy who knows everything, and actually in one of the comic books him and Superman fought to a tie. So that's the coolest part about it. Remember that.
---
The Avengers
It turns out Joss Whedon's directorial debut in the Marvel universe won't be The Avengers, as he actually directed the Thor post-credits scene instead of Kenneth Branagh. So just consider this extra official confirmation that the whole "Loki possessing Stellan Skarsgaard and getting access to the Cosmic Cube" thing is crucial to The Avengers. [/Film]
---
Super 8
Here are some new promo images. [IGN]
---
Oblivion
Now that Tron Legacy director Joseph Kosinski's post-apocalyptic sci-fi project has landed at Universal, Tom Cruise is reportedly in line to play the last human living on Earth, who spends his days repairing the robots that fight an endless war against the evil alien that lives on the surface, all while the rest of the humanity enjoys an easy life in the clouds. This is Cruise's second attempt to get involved with a 100 million dollar sci-fi movie with Universal, after they pulled the plug on Guillermo del Toro's At the Mountains of Madness. (This movie is more palatable for Universal because it has a PG-13 instead of an R rating.) Speaking of which...
---
Pacific Rim
Cruise is also reportedly up for the lead in Del Toro's replacement sci-fi epic, although his involvement in this is just at the initial talks phase. [Deadline]
---
Transformers: Dark of the Moon
Here's the 3D trailer...only, you know, in 2D.

And here's another batch of promo images. [IGN]
Also, for those wanting to see more of the conversation about 3D filmmaking with Michael Bay and James Cameron that we reported on last week, here's a clip courtesy of Paramount.

The movie's release date has now moved up two days to June 29. [/Film]
---
The Hobbit
Star Martin Freeman let slip that his Sherlock costar Benedict Cumberbatch will also appear in The Hobbit. Cumberbatch later confirmed the casting, but said it was supposed to remain secret and so refused to reveal any additional details. Between this and Stephen Fry's recent casting, The Hobbit is fast approaching critical mass for British acting awesomeness. [Digital Spy]
---
Harry Potter and the Deathly Hallows: Part II
Here's a new TV spot.

---
The Adventures of Tintin: The Secret of the Unicorn
Here's a new international teaser trailer with slightly different footage and audio, but still no actual shots of characters talking.

---
G.I. Joe 2
It's looking like the movie will only be shot and released in 2D in an effort to keep costs down. [/Film]
---
Doctor Who
Here's the usual assortment of trailers and clips for the second half of Matthew Graham's two-parter, "The Almost People." First there's a trailer, then two sneak peeks. [Anglotopia]

And here are some promo photos for the episode. [Den of Geek]
Due to Memorial Day, BBC America is pushing back the transmission dates of "The Almost People" and "A Good Man Goes To War", so they will each air one week later than they will in the UK. [Newsarama]
---
Game of Thrones
Here are some new (and quite short) descriptions for the final three episodes.
Episode 8: "The Pointy End"
The Lannisters press their advantage over the Starks; Robb (Richard Madden) rallies his father's northern allies and heads south to war.
Written by George R.R. Martin; directed by Daniel Minahan.

Episode 9: "Baelor"
Ned (Sean Bean) makes a fateful decision; Robb takes a prized prisoner; Daenerys (Emilia Clarke) finds her reign imperiled.
Written by David Benioff and D.B. Weiss; directed by Alan Taylor.

Episode 10: "Fire and Blood" (season finale)
A new king rises in the north; a Khaleesi finds new hope.
Written by David Benioff and D.B. Weiss; directed by Alan Taylor.
Here are some spoilers for the remaining episodes, courtesy of The Examiner's Matt Carter:
1. The battles between the Lannisters and the Starks (which we saw the beginnings of during this past Sunday's episode) are only going to intensify.
2. Dany is going to start to understand her power a little bit more — but then she is going to be faced with a major threat.
3. Robb Stark is going to play a far more important role gathering armies than he has at any point thus far on the show.
4. Finally, the "Thrones" in the title is truly going to take on a whole new significance for the show's season finale on June 19 — entitled "Fire and Blood."
[Examiner]
---
Chuck
Executive producer Chris Fedak says they might create a new villain for the final thirteen episodes, but they're concerned that there's no way to top Timothy Dalton. He also explains what Chuck's new ownership of the Buy More will mean for the character:
"He's really going to have to deal with a lot of the trouble that they get into [on top of his spy work]."
[EW]
---
Terra Nova
Tudors actor Rod Hallett has reportedly joined the show in a full-time role as Dr. Malcolm Wallace, who becomes the antagonist of Jason O'Mara's Jim Shannon as both are out to win the affections of Jim's estranged wife Elisabeth. We broke the story of this character's casting call a while back. [Deadline]