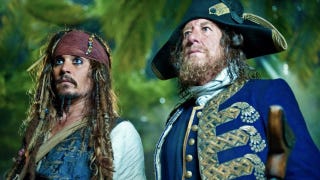 Pirates of the Caribbean: On Stranger Tides is Disney's desperate attempt to throw off all the baggage of the previous sequels and get back to the simple pleasures of a half-mad swashbuckling Johnny Depp. And this time, there's mermaids!
But is it any good? Sort of. It's less muddled than the last two Pirates sequels and maybe a bit more down to earth — but it's also not quite as fun. And it's pretty relentlessly predictable. Spoilers ahead...
The plot of On Stranger Tides is refreshingly simple. The location of the Fountain of Youth has been discovered two hundred years after Ponce de Leon's famous expedition, and three factions go in search of it: the Spanish, the British (led by Geoffrey Rush's "reformed" pirate Hector Barbossa, now a privateer in the service of King George II), and pirates, under the command of the legendary Blackbeard (Ian McShane).
For his part, Blackbeard wants the Fountain of Youth so that he can cheat his prophesied death, which will almost certainly come at the hands of Barbossa. Under Blackbeard's command are his daughter and first mate Angelica (Penelope Cruz) and, rather less willingly, Johnny Depp's scurrilous rogue Captain Jack Sparrow. Blackbeard believes Sparrow can lead him to the Fountain of Youth, which requires a mermaid's tear to transfer life from one person to another. To that end, Blackbeard captures the mermaid Syrena (Àstrid Bergès-Frisbey), who forms an unlikely bond with Blackbeard's prisoner, the missionary Philip (Sam Claflin).
Now, make no mistake: there is absolutely no solid creative reason why On Stranger Tides should exist. But that's nothing new, really - Pirates of the Caribbean was a goofy good time that pretty much said everything there was to be said about its characters and its setting, and that didn't stop them from making two of the biggest, loudest, and most unnecessarily convoluted sequels in movie history.
But we live in an era where Hollywood long ago stopped asking why a film should exist, instead being merely content to shrug, mutter "Why not?", and throw 150 million dollars at some reheated half-concept. That's just what the cinematic landscape is now, and it doesn't necessarily mean all these third and fourth sequels have to be bad (just look at Fast Five). So I don't think the intrinsic staleness of Pirates of the Caribbean is enough to dismiss it — maybe this film can offer us something new and unexpected that reinvigorates the whole franchise. Yeah, about that...