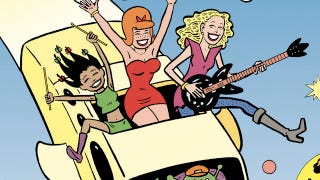 This week's comic haul is a grab bag of weirdness. We have a spaceships-and-girl-groups book from two of indie comics' titans, the return of Canada's premier superheroes, and a veritable smorgasbord of graphic novels.
First Issues
IDW resurrects the Rocketeer in Rocketeer Adventures (which features contributions from John Cassaday, Mike Allred, and Kurt Busiek) and starts a new Snake Eyes series penned by Chuck Dixon.
Marvel's printing a brand new Alpha Flight maxiseries, but Puck sadly isn't mentioned in the solicit information. I kind of wish Puck had an American sidekick named Pigskin, and Italian partner named Bocce, and a Basque cousin named Jai-Alai-Ball Man.
There's also the Qui-Gon Jinn prequel Star Wars Jedi: The Dark Side, the Gotham City mystery Batman: Gates Of Gotham (which guest stars former Wonder Woman martial arts master I-Ching), and Image's supernatural percussion-and-zombies series Drums.
Other Releases
DC Comics Presents: Batman - Dark City reprints a Peter Milligan Riddler tale from years past, and the first issue of James Stokoe's Orc Stain is reprinted for $1.