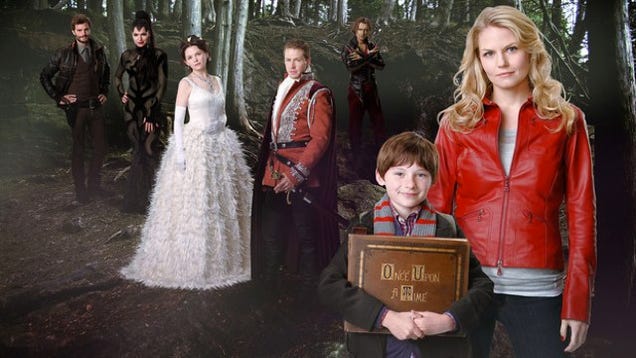 Take a sneak peek at ABC's exceptionally Disneyfied series Once Upon A Time, starring Ginnifer Goodwin as Snow White. Plus take a look at the mockumentary series The River, whose cast includes the nutso deputy from The Crazies!
Once Upon a Time
The premise for this show is a wee bit complicated, but this may be the closest thing we get to a Fables TV series. Trapped in the "real world" the fairy tale creatures must make do — which means Snow White's (Ginnifer Goodwin in the role she was born to play) prince is murdered, and she chops off all of her hair and becomes a nun. Dark! Plus, yes — that is RUSH from Stargate Universe as some sort of evil troll creature (excellent).
The trailer looks great. This clip, however, is really channeling the fantasy world, HARD. Let's hope they spend more time in our world (and it looks like they do).
Once Upon a Time
(Sundays this Fall, 8:00-9:00 p.m., ET)

From the inventive minds of "Lost" executive producers Adam Horowitz and Edward Kitsis comes a bold new imagining of the world, where fairy tales and the modern-day are about to collide.

And they all lived happily ever after - or so everyone was led to believe. Emma Swan knows how to take care of herself. She's a 28-year-old bail bonds collector who's been on her own ever since she was abandoned as a baby. But when the son she gave up years ago finds her, everything starts to change. Henry is now 10 years old and in desperate need of Emma's help. He believes that Emma actually comes from an alternate world and is Snow White and Prince Charming's missing daughter. According to his book of fairytales, they sent her away to protect her from the Evil Queen's curse, which trapped the fairytale world forever, frozen in time, and brought them into our modern world. Of course Emma doesn't believe a word, but when she brings Henry back to Storybrooke, she finds herself drawn to this unusual boy and his strange New England town. Concerned for Henry, she decides to stay for a while, but she soon suspects that Storybrooke is more than it seems. It's a place where magic has been forgotten, but is still powerfully close... where fairytale characters are alive, even though they don't remember who they once were. The epic battle for the future of all worlds is beginning, but for good to win, Emma will have to accept her destiny and fight like hell.

"Once Upon a Time" stars Ginnifer Goodwin ("Big Love") as Snow White/Sister Mary Margaret, Jennifer Morrison ("House MD") as Emma Swan, Robert Carlyle ("The Full Monty," "Trainspotting," "SGU Stargate Universe") as Rumplestiltskin/Mr. Gold, Lana Parrilla as Evil Queen/Regina, Jamie Dornan as Sheriff Graham, Jared Gilmore ("Mad Men") as Henry, Josh Dallas as Prince Charming/John Doe and Raphael Sbarge as Jiminy Cricket/Archie. "Once Upon a Time" was written by Edward Kitsis and Adam Horowitz, who are also executive producers, along with Steve Pearlman (ABC's "V"). The pilot is directed and executive-produced by Mark Mylod ("Entourage"). "Once Upon a Time" is from ABC Studios.
The River
We've been excited about The River, ever since we found out they cast Joe Anderson in a major role. Also, we're really glad that the studios are clearing the way for more horror television. It takes a special king of show to pull off network scares, it should be interesting to see if this Amazon mockumentary can execute. No trailer yet, just this clip and press release: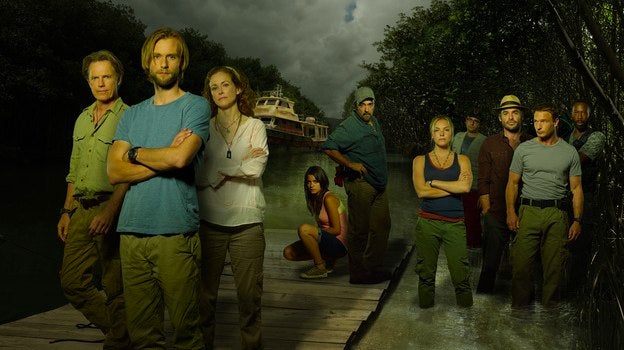 The River
(Midseason 2012)

"The River" follows the story of wildlife expert and TV personality Emmet Cole. Emmet set course around the world with his wife, Tess, and son, Lincoln, while filming what would become one of the most popular shows in television. After he goes missing deep in the Amazon, his family, friends and crew set out on a mysterious and deadly journey to find him.

Famed explorer Dr. Emmet Cole (Bruce Greenwood) went looking for magic deep in the uncharted Amazon and never returned. The shocking truth about his disappearance is out there, somewhere, just waiting to be discovered. To the millions of kids who grew up watching his nature show, Dr. Cole was a hero. To his own son, Lincoln (Joe Anderson), he was more of an enigma. Now, six months after he vanished, Lincoln is finally ready to bury the past when Dr. Cole's emergency beacon suddenly goes off. At the urging of his mother, Tess (Leslie Hope), Lincoln reluctantly joins her on a search for his father. To fund the rescue, they agree to let Dr. Cole's cagey ex-producer, Clark (Paul Blackthorne), film the mission documentary-style. The mixed crew of old friends and new acquaintances includes the sexy and resourceful Lena (Eloise Mumford), loyal mechanic Emilio (Daniel Zacapa) and lethal bodyguard Captain Kurt Brynildson (Thomas Kretschmann). "The River" stars Bruce Greenwood ("Star Trek") as Emmet Cole, Joe Anderson ("The Twilight Saga: Breaking Dawn Parts 1 and 2") as Lincoln Cole, Paul Blackthorne ("Lipstick Jungle") as Clark, Paulina Gaitan as Jahel, Leslie Hope ("24") as Tess Cole, Eloise Mumford ("Lone Star") as Lena, Shaun Parkes ("The Mummy Returns") as Adjay, Thomas Kretschmann ("King Kong") as Captain Kurt Brynildson and Daniel Zacapa ("Resurrection Blvd.") as Emilio.

"The River," from Amblin's Steven Spielberg, Daryl Frank and Justin Falvey, showrunner/executive producer Michael Green ("Heroes," "Kings"), is also executive-produced by Oren Peli (creator of "Paranormal Activity"), Zack Estrin, Jason Blum and Steven Schneider. Teleplay by Michael R. Perry and Michael Green, story by Oren Peli & Michael R. Perry and Michael Green. The pilot is directed by Jaume Collet-Serra and produced by ABC Studios.
MONDAY
8:00 p.m. "Dancing with the Stars"
10:00 p.m. "Castle"

TUESDAY
8:00 p.m. "Last Man Standing" NEW
8:30 p.m. "Man Up" NEW
9:00 p.m. "Dancing with the Stars the Results Show"
10:00 p.m. "Body of Proof"

WEDNESDAY
8:00 p.m. "The Middle"
8:30 p.m. "Suburgatory" NEW
9:00 p.m. "Modern Family"
9:30 p.m. "Happy Endings"
10:00 p.m. "Revenge" NEW

THURSDAY
8:00 p.m. "Charlie's Angels" NEW
9:00 p.m. "Grey's Anatomy"
10:00 p.m. "Private Practice"

FRIDAY
8:00 p.m. "Extreme Makeover: Home Edition"
9:00 p.m. "Shark Tank"
10:00 p.m. "20/20"

SATURDAY
8:00 p.m. "Saturday Night College Football"

SUNDAY
7:00 p.m. "America's Funniest Home Videos"
8:00 p.m. "Once Upon a Time" NEW
9:00 p.m. "Desperate Housewives"
10:00 p.m. "Pan Am" NEW

Not Scheduled, but airing Mid-Season: The River