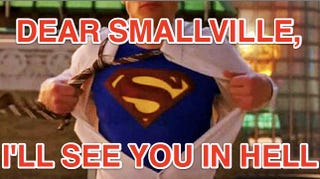 After 10 years of making a dog's breakfast of the Superman mythos, Smallville is finally off the air, deservedly consigned to that unnamed underworld where bad television rots for eternity. But why do I have these pangs of unplaceable sadness?
NOTE: Given that last night's series finale (appropriately named "Finale") was a unique episode, this is not a traditional recap. If you've never seen Smallville before, don't worry about being lost. Smallville doesn't give a fig about narrative logic and neither should you. Those old Superman Peanut Butter ads had more rigorous plotting. Spoilers on, but who cares?
This recap is one final attempt for me — the reluctant Smallville recapper — to square the rather complex feelings I have for a television program that often felt less like a Superman melodrama and more akin to those tumor-inducing TV signals from Videodrome.
(If you're desperate to discover what happened in "Finale," scroll down to the picture of actor Tom "Clark Kent" Welling in bondage. Honestly, only five minutes of the two-hour finale were vaguely watchable, maybe three if you discount the ads for Hellcats.)
Several months ago, I was talking with io9 reporter Alasdair Wilkins about how the hell this perennially unhip, unheralded, and mostly forgotten show stayed on the air for ten years (this is a mystery that's intrigued me for a while).