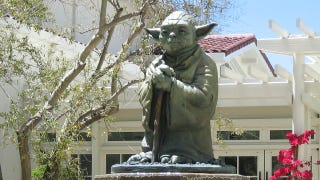 You can't travel to other planets or other times — not yet, anyway. But there are plenty of great landmarks from science fiction and fantasy that you can visit, right here on Earth. Here are 10 great fannish tourist destinations.
We asked the awesome people on io9's Facebook page what their favorite "fan pilgrimages" were, and here's what people said. Did we miss your favorite landmark? Let us know in the comments, or over at the Facebook page.
Top image: Jeffrey95112 on Flickr.
10) Cardiff Bay, Cardiff, Wales
Visit the location of Torchwood's secret entrance, as well as the area where so many Doctor Who scenes have been filmed — Cardiff Bay has stood in for all sorts of locations in the new Who. But mostly, you'll just have hours of fun trying to locate the hidden entrances to the Hub. (Thanks for the suggestion, Michael.) Photo by GivingNot on Flickr.
9) The Stanley Hotel in Estes Park, CO
This hotel was the inspiration for Stephen King's original novel of The Shining — and the actual miniseries version was filmed there. Adds Scott Clark, "Doesn't hurt that Estes Park is a great place to vacation!" (Although many people do believe the Stanley Hotel is haunted in real life, and have reported hearing eerie piano music in the distance while staying there. So be warned!) Photo via WallyG on Flickr.
8) The Bradbury Building, L.A.
Not only is this one of the most famous retro-futuristic buildings of all time, it's also a huge film location. Most famously, it's used a lot in Blade Runner, as the home of J.F. Sebastien. But it also makes huge appearances in The Outer Limits, Quantum Leap, Pushing Daisies, and the movie Wolf. (Thanks, Mark!) Photo by DB's Travels on Flickr.