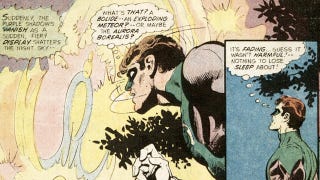 Cyborgs, aliens, and highfalutin space gods aren't the only perils superheroes face. No, sometimes they battle sentient cocaine or mind-control methamphetamines. Here are 10 (mostly ridiculous) stories in which our favorite do-gooders got dosed.
10.) The Flash does angel dust and beats up the Justice League
In 1979's Flash #275-276, DC Comics decided that it wasn't enough for the Flash to be a man who ran expeditiously and dressed like an electric strawberry. No, his wife Iris had to be brutally murdered and the Flash had to come to terms with her death hopped up on hospital painkillers and angel dust (some bad guys made him smoke it or something). Flash, who's buzzing for days on this cocktail, attacks the Justice League when they refuse to resurrect her. Strangely enough, the Flash doesn't metabolize the PCP in approximately three seconds.
9.) Hal Jordan gets high on magic mushrooms in chili
In the 1973 Flash back-up story "The Powerless Power Ring," the Green Lantern goes camping and makes himself some of the Green Arrow's famous chili. Unfortunately, a mushroom cannery in the DC Universe accidentally delivered psilocybin to grocery stores. Hal must then save a rock climber while tripping balls. I'd blame his canned enlightenment on noted supervillain stoner the Floronic Man, but I'm not sure he can control all things mycological. You can read "The Powerless Power Ring" at Diversions of the Groovy Kind.