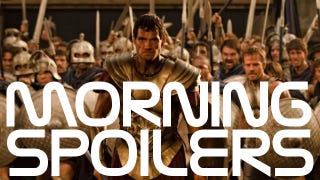 We've got tons of Avengers plot details...assuming we can believe any of it. J.J. Abrams talks Star Trek 2, while Colin Farrell discusses the Total Recall reboot. Plus a potentially massive Green Lantern spoiler, and is The Dark Tower doomed?
Top image from Immortals.
The Avengers
Who's up for a supposed plot synopsis from that most unreliable of sources, IMDB? Well, we've got the motherlode of quite possibly made-up Avengers plot details. There may not be enough grains of salt in the universe to deal with all this, but let's take a look at what's supposedly on tap:
- It starts like The Ultimates with Captain America in WWII*
- There is a battle between Captain America and some S.H.I.E.L.D agents
- The Skrulls are in it but they are not named. They aren't Nazis like in The Ultimate and there is no Kree unfortunately.
- Loki DOESN'T summon them, he's simply tells them the [cosmic] cube's on Earth
There are more details at the link, including one major character who turns out to be a Skrull impostor and another who gets killed. As far as other details go, the Avengers supposedly split up at the end of the movie because they realize they don't really work well together - which is probably the most likely part of all this to be true, if only because the various sequels need to be set up - there is a short battle between Hulk and the Avengers, and the Skrulls want to use the Cosmic Cube to rebuild their dead planet — and in fact the entire reason behind the formation of the Avengers was to fight the Skrulls. [ComicBookMovie]
And here are some additional claims from the same poster:
- The Skrulls have been here [to earth] before. They just thought the cube [was] no longer on Earth.
- Once S.H.I.E.L.D found the cube Fury knew it was only a matter of time before they would come back.
- The Skrulls' homeworld had been destroyed, just like in the comics...
- There are some great fights with lots of spaceships. The script definitely is EPIC.
On a rather more substantial note, here are some set photos that appear to depict a sequence set in a foreign country. [ComingSoon.net]
---
The Dark Knight Rises
According to a report in the Hindustan Times, the India location shooting took place inside the Mehrangarh Fort on May 6 and 7, but these are just part of a much larger sequence and it's quite possible the location won't actually be India in the finished film. Also, Christian Bale was reportedly not present for filming, contrary to previous information. And yes, this is the filming where we glimpsed what may or may not be the Lazarus Pits, but there's no further information on that. [IGN]