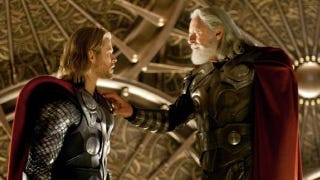 Are you confused by all those crazy space vikings running around in the Thor preview? Don't know what a Mjolnir is? Well, put on some Ride the Lightning, because here's a crash course in all people, places, and things Asgardian.
First off, here's the latest trailer (in case you haven't seen it).
Also, I've omitted certain facets of these characters' biographies, as they could be considered spoilers for the film.
Thor (Chris Hemsworth)
Marvel's Thor is based on the thunder god from Norse mythology (and the namesake of the fifth day of the week) and was created by writer Stan "The Man" Lee, Stan's brother Larry Lieber, and illustrator Jack Kirby. The hero debuted in 1962's Journey into Mystery #83. Prior to Thor, Journey Into Mystery focused on monsters with such mellifluous names as Gruto, Spragg, Shagg, Gomdulla, Zog, Bombu, and Rro.
After his first appearance, Thor stories monopolized Journey Into Mystery. Was this a good thing? It's hard to say. In another reality, audiences are enjoying a $150 million Rro summer tent-pole film starring Gilbert Gottfried. Are we really living in the best of worlds?
In Marvel continuity, Odin (Thor's father) tires of his son's hubris, strips him of his mystical hammer Mjolnir, and exiles him to Earth to learn some manners. Odin transforms Thor into Dr. Donald Blake, a mortal with an injured leg that requires him to walk with a cane.
But Odin the All-Father is forgiving and cosmically compels his son toward redemption. While vacationing in Norway, Blake accidentally runs into the Stone Men of Saturn (don't ask). Blake takes shelter in a nearby cave, discovers Mjolnir hidden in the form of an enchanted stick, and smacks the Stone Men into gravel.
Thor would go on to have many blond adventures. He was a founding member of Marvel Comics' premiere superteam The Avengers, helped saved the universe oodles of times, and even convinced Odin to remove the enchantment that transforms him into Donald Blake. For a while — thanks to S.H.I.E.L.D. leader Nick Fury (Samuel L. Jackson in the movies) — he experimented with a construction worker alter ego, Sigur Jarlson. But most of the time, Thor rolls as plain ol' Thor.
Thor screenwriter Ashley Edward Miller recently told us that he and co-writer Zack Stentz drew inspiration from Walter Simonson's seminal 1980s run on The Mighty Thor and Mark Millar's grittier depiction of the hero in The Ultimates.