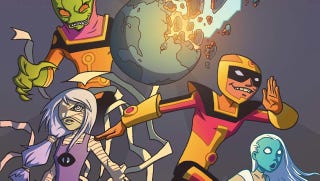 What's in stores this week? A new comic about young superfoes, a manga about budding superheroes, the second installment of Fear Itself, and an über-adorable return to the Sandman universe.
Oh, and don't forget that Saturday is Free Comic Book Day — you can find more information about this annual free funny pages festival here.
First Issues
Firs tup, we have Gladstone's School For World Conquerors by Mark Andrew Smith and artists Armand Villavert and Carlos Carrasco (above). It's a super-cute look at evildoers in training and the schoolyard politics of becoming an A-List bad guy. In terms of Marvel, Daredevil's Brian Michael Bendis and Alex Maleev start up a new Moon Knight series and Christopher Yost pens Fear Itself: Spider-Man.
Other Releases
The second issue of Fear Itself is out — ancient and unpleasant Asgardian deities are handing out giant magic hammers like candyfloss with Thor nowhere in sight.
The reprint anthology Green Lantern Super Spectacular republishes memorable tales from Alan Moore, Darwyn Cooke, and other GL creators. Image is also releasing $1 reprints of Jonathan Hickman's The Nightly News and Kieron Gillen's Phonogram, and DC is reprinting the dystopian alternate reality tale Son of Superman.
Other comics of interest may include new issues of Irredeemable, The Boys, Axe Cop, Sweet Tooth, Alan Moore's magazine Dodgem Logic, Uncanny X-Force, Secret Six, iZombie (which is running a real-time story arc with a month passing between each issue), and Spike (check our preview here).