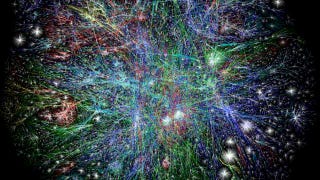 The internet preserves unimaginable amounts of data, including huge amounts of minutiae describing people's everyday lives. So here's the question: is this information worth saving for future generations to study, or is this the sort of data that's best forgotten?
According to recent estimates, two-thirds of all Americans store at least some personal information on the internet, and about half use social networks. When you throw in stuff like your browsing and search histories, that's a ton of data even for a single person, and it all adds up to what's been dubbed your "digital soul." And there's a debate brewing between "preservationists" and "deletionists" over just what should be done with all that data.
In theory, all this data could prove massively useful to future archaeologists and sociologists eager to understand not just how the world worked in the early 21st century, but also how regular people interacted with it. Seemingly mundane documents and records can take on massive importance even a few centuries later, and a well-preserved internet could prove to be the definitive archaeological record of our life and times.
But parts of the internet are already threatened with erasure - just look at the recent deletion and subsequent archival resurrection of Geocities - and the debate is crystallizing over whether this information is really worth keeping. That's the issue Sumit Paul-Choudhury deals with over at New Scientist, and he relates this analysis from Geocities preservationist Jason Scott: