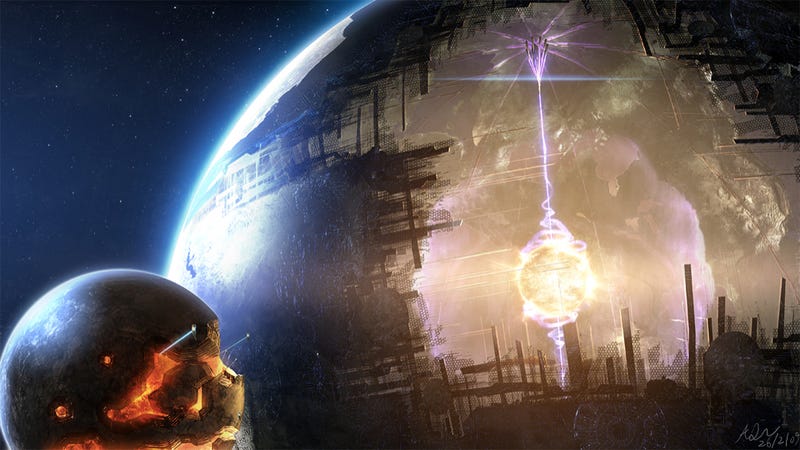 In this week's "Ask a Physicist," we'll explore an awesome mash-up of exoplanets, supercivilizations, and dark matter, and try to figure out whether the "missing mass" in the universe is really advanced aliens with a cloaking device.
It's not often that I get a question that is straightforward, reasonable and terrifying as hell. Reader Marc Unger tried to make me question my place in the cosmos with the following puzzler:
Given the tremendous numbers of planets that we are starting to observe in the galaxy: isn't it possible that the "missing mass" of the galaxy (and the universe) is actually because alien species have built a huge number of Dyson spheres?
I feel kind of silly explaining the concept of a Dyson Sphere to io9 readers, since I'm sure you all have your own under construction, but I'll do so for those readers who are more on the fantasy side of the sci-fi spectrum.
In 1960, the physicist Freeman Dyson proposed the idea that a supercivilization might build a giant sphere around a star that was so large that it had a radius approximately equal to the distance from the earth to the sun. Since all of the starlight would be absorbed by the sphere, the entire interior surface could be kept at room temperature. If you played your cards right, you'd have about a billion times the arable land on the interior of the sphere than we do on the surface of the earth.
Oh sure, there are little details that might make living in a Dyson Sphere kind of a pain. For instance, if you wanted to use the whole thing there's no way to spin it in such a way to give everyone a nice earth-like artificial gravity. Also, if you wanted to experience night, you'd basically have to go underground (which is to say, outerground), but isn't that a small price to pay for allowing the population to grow to quadrillions? And yes, I'm aware, that there are variants like the "Dyson Swarm" which don't have these problems, but they wouldn't hide their stars, so we're going to ignore them.
Could we be surrounded by Kardashev Type 2 civilizations? In Marc's picture, the Galaxy is so filled with hideous intelligence that it's really just a matter of time before we're invaded, assimilated, and, at best, turned into alien sex slaves. There's also the small fact that virtually all of the stars — perhaps tens of billions of them in our Galaxy alone — would be just out of sight, neatly tying together the question of Dark Matter and extraterrestrials.
I've written a fair amount about the evidence for dark matter, so I won't rehash all of it now. If you'd like the broad-brush strokes, the idea is that everything from the scale of galaxies on up seem to be "missing" about 85% of their mass. It doesn't seem to be in the form of stars or gas, but could it be in the form of Dyson Spheres?